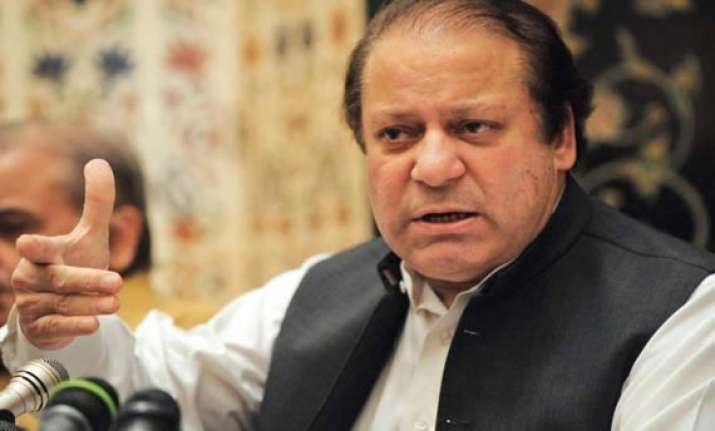 Islamabad: Pakistan Prime Minister Nawaz Sharif today said there was no justification for the protests as he has accepted all constitutional demands of protesters after opposition leader Imran Khan asked him to quit for 30 days to allow a probe into alleged rigging in the 2013 polls.  
"Instead of wasting their energies in protests, the demonstrators should play their role for the progress and development of the country," Sharif said in his first public comments after Khan sought his resignation.  
There is no justification for continuing the protest after the government acceded to all the constitutional demands of the participants of the sit-ins, he said during a meeting with Punjab Chief Minister Shahbaz Sharif and Member of National Assembly Hamza Shahbaz.
In his latest demand after the government outrightly rejected the proposal to end the crippling political deadlock, Khan asked Sharif to quit for 30 days to allow an independent probe into alleged rigging in last year's polls, hours "We accept nothing less than Prime Minister Nawaz Sharif's resignation," Pakistan Tehreek-e-Insaf (PTI) chief Khan told his supporters as they continued the siege of the parliament.
With government rejecting the protesters' demand that Sharif step down, the political deadlock entered the 11th day today with no breakthrough yet.
The third round of talks between government negotiators and Khan-led Pakistan Tehreek-i-Insaf (PTI) last night failed to break the logjam.
The PTI yesterday proposed that the prime minister resign for a period of 30 days during which a judicial commission works 'independently' to determine if the May, 2013 elections were transparent.
This demand though was rejected by the government, which said they had accepted almost all other demands of the PTI.  After the meeting, Khan's chief negotiator Shah Mehmood Qureshi told reporters that if proved innocent Sharif can return to power.
Khan warned of nationwide wheel-jam protest if Sharif did not step down.
"We will not stop here. We will halt all traffic in the country with wheel-jam strike," he said.  Khan did not give the date for launching such a strike but already his supporters are staging sit-ins in Karachi, Lahore and other cities.
Meanwhile, 11 disgruntled Members of the National Assembly from Khan's PTI have decided to form a forward bloc after developing serious differences with the party leadership over the issue of resignations.