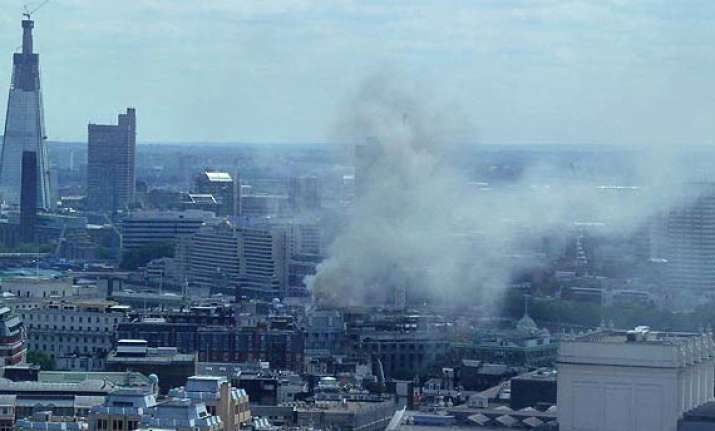 London, June 14: A fire at the Marconi House, a landmark building on the Strand, in central London, caused extensive damage on Tuesday as more than 75 firefighters and 20 fire engines battled to control the blaze in the capital's west end, The Daily Telegraph reported.

The fire was caused by  workers using bunsen burners or welding torches which set fire  to  the insulation in the roof, witnesses claimed.

Officials warned nearby offices to keep their windows shut after thick plumes of black smoke rose over the city that could be seen for miles.

The Marconi House is at the junction of the Strand and Aldwych, two of the capital's most historic streets.

The 10-storey building, which accomodate a five star hotel and 86 upmarket flats, had been closed for three years before maintenance work was recently started.

One worker, who declined to be named, said it appeared that the insulation inside the roof then caught fire.

"The roof all of a sudden just caught fire, there was smoke everywhere and everyone was then evacuated from the building," he said.

A London Fire Brigade (LFB) spokesman could not confirm the cause of the blaze but said investigators would be interviewing workers. He said the workers' tools would be one line of inquiry.

It is understood that a special fire protection "rise" had just been completed inside the building, allowing firefighters access to the roof.

The LFB spokesman said the fire took hold of about a quarter of the 100sq m (1,076sq ft) roof of the 10-storey building, which is currently being converted to a design by Norman Foster's architectural firm.

There were no reports of people trapped but there were reports of one minor injury.

But the spokesman added: "There is still a lot of smoke so we advise nearby buildings to keep windows closed."

London Ambulance Service sent paramedics and five specialist hazardous area response team units as a precaution.

The fire caused chaos to the local area.

Public transports and local traffic was heavily disrupted after Transport for London closing parts of the Strand, the Mall and Waterloo Bridge and putting in place diversions.

The Strand, which runs between Trafalgar Square and Fleet Street, includes Charing Cross railway station, Somerset House, the Royal Courts of Justice and several West End theatres.

Nearby buildings including the BBC and the Australian embassy were placed on alert for a possible evacuation.

The LFB spokesman said the fire appeared to be contained to the roof and had not spread throughout the building.

He praised the evacuation process, saying that officials quickly knew that workers were all accounted for.