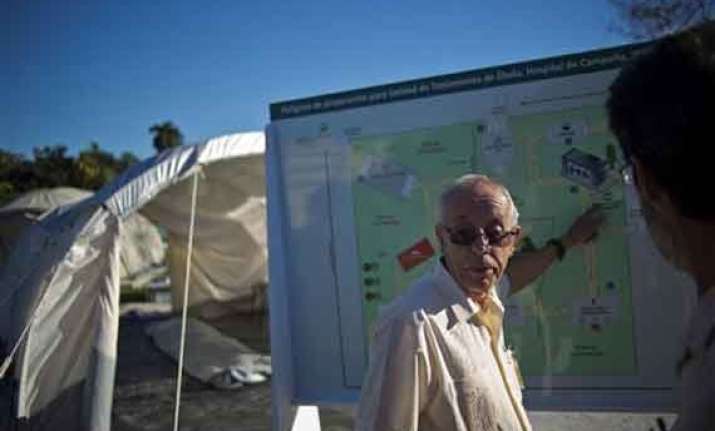 Havana: A leftist Latin American summit next week should generate more aid to fight Ebola, including additional Cuban doctors and support staff from other nations, the head of Cuba's effort to slow the disease said on Friday.
Jorge Perez, the head of Cuba's top tropical medicine institute, said he expects the meeting of the socialist ALBA bloc hosted by Cuba and Venezuela in Havana on Monday to result in pledges of financial and human resources that can be sent to African nations trying to contain the Ebola outbreak.
Cuba has sent 165 doctors to Sierra Leone and plans to send 296 more to Liberia and Guinea, the largest commitment of medical personnel so far. Perez said Cuba is ready to send more doctors as long as there is enough funding and infrastructure to support them.
"What do I expect as a scientist from the summit? That the countries in attendance join the international effort against Ebola, for the protection not just of their countries but also to see how they can help those countries experiencing such difficult situations," he said.
"There are countries that have resources and can send money, but there are also those who can send human resources. It's not just doctors. We also need nurses, technicians."
He said he was certain that if there was money to fund the effort, Cuba could send more doctors, but he also called on other countries to send more of their own doctors and medical staff, and not just money and equipment.
Perez said the Cuban doctors were receiving their ordinary salaries from the communist government, while extra expenses such as the costs of lodging and transportation in Africa were being borne by the World Health Organization.
In Washington on Friday, U.S. Secretary of State John Kerry mentioned Cuba as one of the "nations large and small stepping up in impressive ways to make a contribution on the front lines."
Perez said that despite the United States' chilly 55-year relationship with Cuba's communist government, Kerry's words were "an important gesture and I think that's important."