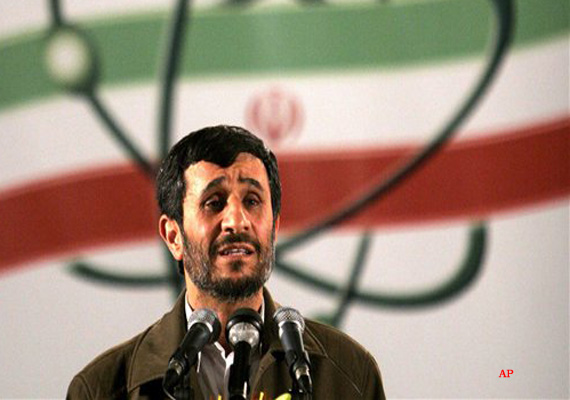 Tehran, Feb 16 : Iran's President Mahmoud Ahmadinejad on Wednesday ordered Iran to "go build" four more nuclear research reactors in addition to the sole one operating in Tehran.

"It has been estimated that four nuclear reactors in four different spots in the country are needed. Go build them, to carry out research activities and provide radio-medicine needed by the country," he said in a speech on state television.

The order came after Ahmadinejad unveiled a number of advances in Iran's controversial nuclear programme that served as a defiant blow to international efforts to rein in its atomic activities.

Iran is currently building one other research reactor, a heavy-water facility in the central city of Arak designed to be more powerful than the ageing Tehran research facility built in 1967 by America.

It also has projects to construct 20 reactors to produce electricity.Iran's nuclear drive has unsettled the West and Israel, which fear it could include work towards atomic weapons.

Tehran has denied its programme is anything but peaceful. However the International Atomic Energy Agency, the UN's nuclear watchdog, said in November it had evidence of tests and computer simulations that strongly suggested a military dimension to Iran's activities.

"The era of bullying nations is past. The arrogant powers cannot monopolise nuclear technology. They tried to prevent us by issuing sanctions and resolutions but failed," president Mahmoud Ahmadinejad said in a live television broadcast.

"Our nuclear path will continue." However, Iran's Arabic-language Al Alam television said the government had handed a letter to EU foreign policy chief Catherine Ashton expressing readiness to "hold new talks over its nuclear programme in a constructive way".

An Ashton spokeswoman confirmed receipt of the letter, saying she was evaluating it and would consult with the United States, Russia, China and other partners among the big powers.

Iranian officials have long refused to negotiate curbs on its programme, saying it aims solely to produce electricity for booming domestic demand in OPEC's No 2 oil-exporting state.The most recent talks between world powers and Iran collapsed in January 2011 when they could not agree an agenda.

The United States and Israel have not ruled out military action against Iran if diplomacy and sanctions are ultimately judged futile in reining in its nuclear activity.

Underlining the high stakes and at times nervous confusion arising from the nuclear stand-off, Iran's oil ministry denied a state media report that it had cut off oil exports to six European Union states. Brent crude oil prices jumped up $1 a barrel to $118.35 in reaction to the announcement.

"We deny this report ... If such a decision is made, it will be announced by Iran's Supreme National Security Council," a spokesman for the ministry told Reuters.

Iran's English language Press TV said Tehran had halted oil deliveries to France, Portugal, Italy, Greece, Netherlands and Spain -- its biggest EU customers -- in retaliation for an EU ban on Iranian crude due to take effect in July.

"It is not really surprising that we are seeing this chaos as it reflects the fractured political process in Iran," said Nic Brown, head of commodities research at Natixis in London.

"You have the oil ministry responsible for revenues while other parts of the government are trying to make political statements. At the end of the day, they need revenues and they will remain dependent on the Europeans if they cannot place their oil elsewhere. Iran remains absolutely dependent on income from its oil exports," Brown said.

The Islamic Republic is the world's No. 5 oil exporter, with 2.6 million barrels going abroad daily, and the EU consumes around a fifth of those volumes.

With Western sanctions now spreading to block Iran's oil exports and central bank financing of trade, Tehran has been resorting to barter to import staples like rice, cooking oil and tea, commodities traders say.

The most recent talks between world powers and Iran failed in January 2011 because of Tehran's unwillingness to discuss transparent limits on enrichment, as demanded by several U.N. Security Council resolutions passed since 2006.

The nuclear achievements proclaimed by Tehran involved a new line of uranium enrichment centrifuge and the loading of its first domestically produced batch of fuel into a research reactor that is expected to soon run out of imported stocks.

Tehran has for some years been developing and testing new generations of centrifuges to replace an outdated, breakdown-prone model. In January it said it had successfully manufactured and tested its own fuel rods for use in nuclear power plants.

Ahmadinejad said the "fourth generation" of centrifuge would be able to refine uranium three times as fast as previously.

If Iran eventually succeeded in introducing modern centrifuges for production, it could significantly shorten the time needed to stockpile enriched uranium, which can generate electricity or, if refined much more, nuclear explosions.

Last year, Iran installed two newer models for large scale testing at a research site near the central town of Natanz.But it remains unclear whether Tehran, under increasingly strict trade sanctions, has the means and components to make the more sophisticated machines in industrial quantity.

"We have seen this before. We have seen these announcements and these grand unveilings and it turns out that there was less there than meets the eye. I suspect this is the same case," said Shannon Kile at the Stockholm International Peace Research Institute (SIPRI).

France said Tehran's latest moves again demonstrated that it would rather ignore international obligations than cooperate. "These statements are an extra concern for the international community," said deputy foreign ministry spokesman Romain Nadal.

"The Iranian military nuclear programme constitutes one of the most serious threats to peace not only in the world but in the region. We are convinced that Iran continues to develop this programme. (Today's) announcements reinforce that conviction."

But Russia said global powers must work harder to win concessions from Iran, warning that Tehran's preparedness for compromise was waning as it makes progress toward the potential capability of building nuclear warheads.

Making a case for a renewed dialogue, deputy foreign minister Sergei Ryabkov said U.N. sanctions and additional measures introduced by Western nations had had "zero" effect on its nuclear programme.

Iran has threatened retaliation for any attack or effective ban on its oil exports, suggesting it could seal off the main Gulf export shipping channel, the Strait of Hormuz, used by a third of the world's crude oil tankers.State television aired live footage of Ahmadinejad loading Iranian-made fuel rods into the Tehran Research Reactor and called this "a sign of Iranian scientists' achievements".

The Tehran reactor produces radio-isotopes for use in medical treatments and agriculture.Iran says it was forced to manufacture its own fuel for the Tehran reactor after failing to agree terms for a deal to obtain it from the West to replenish imported Argentinian stocks that will run out in the near future.

In 2010, Iran alarmed the West by starting to enrich uranium to a fissile purity of 20 per cent for the stated purpose of reprocessing into special fuel for the Tehran reactor.

In boosting enrichment up from the 3.5 per cent level suitable for powering civilian nuclear plants, Iran moved significantly closer to the 90 per cent threshold suitable for the fissile core of a nuclear warhead.

Analysts remained doubtful that Iran would be able to operate the research reactor with its own special fuel."As usual, the announcement surely is exaggerated. Producing the fuel plates ... is not so hard. But the plates have to be.