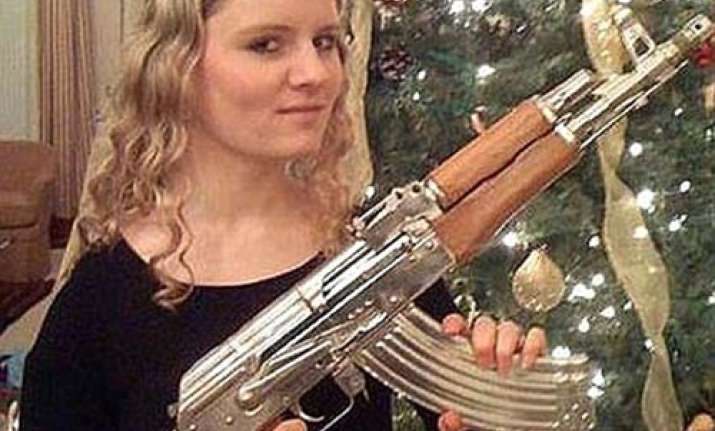 Holding Saddam Hussein's  gold-plated Kalashnikov rifle, the daughter of Britain MI6 spy agency chief Sir John Sawers posed in front of a Christmas tree and posted it on her Facebook, reports Daily Mail.
To the casual observer she might look like nothing more than a drugs baron's moll, happily flaunting her wealth and power. 
Yet, astonishingly, the girl with the golden gun is the daughter of Britain's spy chief Sir John Sawers, the head of MI6. And the weapon itself is said to have once belonged to Saddam Hussein.
Sir John is supposed to maintain a high degree of secrecy, because he and all his family are at potential risk of terrorist assassination, but his daughter Corinne Sawers, 23, thought this an amusing image to put on the internet. 
The picture is available to be viewed on Miss Sawers's Facebook page by tens of thousands worldwide. 
And the Kalashnikov is believed to be not just a replica but from the private collection of Saddam, who had a number of the Russian-designed assault rifles gold plated. 
Sir John, 55, is understood to have been given one as a memento of his service in Baghdad following the Allies' 2003 defeat of the Iraqi dictator, and it seems it has now become a plaything in his home. 
Long a potent weapon in communism's violent struggle with the West, the Kalashnikov, or AK47, has been nicknamed 'the widow maker' for its devastating use in countless conflicts, and is still favoured by terrorists and insurgents. 
The potential security slip is doubly embarrassing for spy chief Sir John because it emerged yesterday, days after he made a rare public speech in which he warned of the danger of 'cyber threats' by terrorists using the internet. 
Information about our secret services had to be kept secret, he stressed. 
In May last year Sir John was embarrassed shortly after taking up his top job by the publication of photographs of him wearing tight swimming trunks on a beach, which his wife Lady Sawers had posted on her Facebook page. 
Those images were compared unfavourably to Speedo beachwear pictures of film star Daniel Craig playing fictional MI6 man James Bond, and it was pointed out then that such pictures were a potential security breach. 
Lady Sawers had failed to take preliminary precautions to maintain the privacy of her  web page, it was pointed out, and she was urged to take more care.
But it seems her daughter did not get the message.A security source said yesterday: 'It's a very silly thing for her to do. Given the sensitivity of her dad's job, she should think twice about what she posts.'