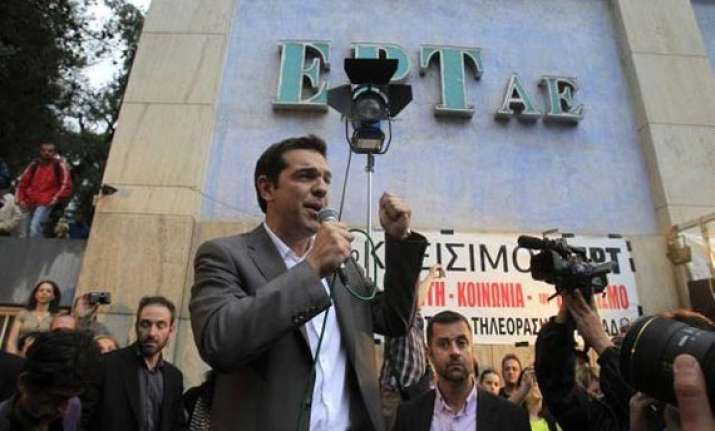 Athens, June 13: Unions in Greece are holding a general strike on Thursday in protest of the closure of state-run TV and radio which has divided the fragile coalition government.
Several thousand protesters were gathering outside the headquarters of the Hellenic Broadcasting Corp. ERT staff, who were fired, have been occupying the building for a third day and continuing broadcasts in defiance of the government.
The three-party government pulled ERT off the air late Tuesday, axing all 2,656 jobs as part of its cost-cutting drive demanded by international creditors. Conservative Prime Minister Antonis Samaras has insisted the broadcaster will remain closed before a new public broadcaster opens at the end of the summer. But his centre-left coalition partners have submitted legislation to parliament to cancel ERT's closure.
Despite the growing opposition, the government defended its decision to shut down the broadcaster.
"There have been more strikes at ERT in recent months that anywhere else... They are acting in a socially irresponsible way," conservative lawmaker Adonis Georgiadis said. "We are not ending public television. We are making it better."
The crisis was the worst in Mr. Samaras' year-old government, which is credited rescuing Greece's euro membership by imposing harsh austerity and reform measures demanded by the country's international creditors. But now the coalition's centre-left partners are threatening to block the ERT closure, the government faces the risk of breaking up and calling an early general election a process that could disrupt the austerity process and threaten future bailout payments.
Cooperation between Mr. Samaras' conservatives and his partners has come under increased strain this year following government decisions to end several strikes using emergency powers normally reserved for mobilizing resources in natural disasters.
Greece is under pressure to fire civil servants as part of its commitments to bailout lenders other members of the 17-strong club of European Union countries that use the euro and the International Monetary Fund who have provided some 200 billion euros to the country in emergency funding since 2010.
Thursday's protest called by Greece's two largest unions disrupted public transport and left state hospitals running on skeleton staff, while flights are to be grounded between 3:00 and 5:00 p.m. local time.
The Geneva, Switzerland-based European Broadcasting Union, representing Europe's public TV channels, began streaming online broadcasts by fired ERT staff, while the many Greek news websites also carried the live stream. The signal was also being aired on a channel run by the Greek Communist Party.
"We ask that viewers regularly reset their televisions. They are taking down the signal. But we also have our ways of getting back up," said Panagiotis Kalfayiannis, leader of the National Federation of Personnel at Greek Radio and Television.
Shares on the Athens Stock Exchange continued their decline, dipping 2.25 percent midday on Thursday, a steady decline on interest rate on the country's 10-year bonds also halted and again rose above 10 per cent.