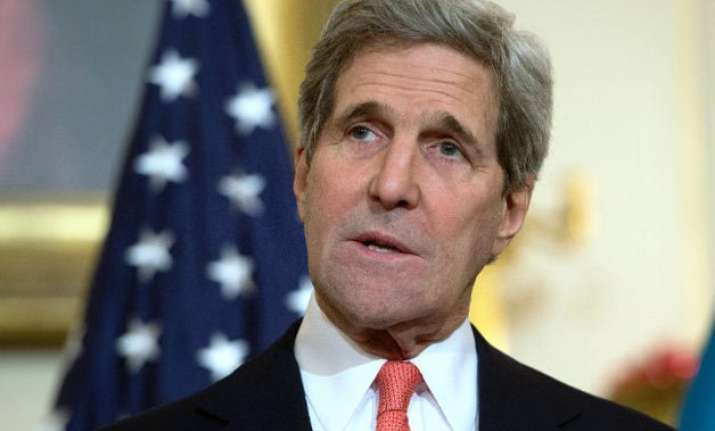 Islamabad: US Secretary of the State John Kerry today said that Pakistan must fight terror groups that threaten Afghan, Indian and US interests.
"Terror groups like Pakistani and Afghan Taliban and LeT continue to pose a threat not just to Pakistan and its neighbours but also to US," Kerry said.
All extremists groups should be targeted equally, he said, adding that Pakistan has long been suspected by the West of playing a double game on fighting militants.
"We all have a responsibility to ensure that these extremists are no longer able to secure a foothold in this country or elsewhere," Kerry said.
The Haqqani network is blamed for a bloody bombing of the Indian embassy in 2008 that left 58 people dead, a 2011 attack on the US embassy, and several big truck bombing attempts. US and Afghan officials have repeatedly said Pakistan's spy agency ISI covertly backed the Haqqanis to extend its influence in Afghanistan, a charge Islamabad deny.
He also expressed deep concern on the recent violence on the India-Pakistan border and called on India and Pakistan to find a diplomatic solution.
"India and Pakistan should re-engage in serious dialogue," Kerry said.
"I encourage (both) parties to have a dialogue," Kerry added.
India called off Foreign Secretary-level talks with Pakistan after Pakistan High Commissioner in New Delhi Abdul Basit held talks with Kashmiri separatists in August last year.
Kerry also chose to voice sympathy for the victims of the December 16 Peshawar attack on a army-run military school.
"The tragedy of December 16 is really a reminder of the serious risk of allowing extremists to find space, and be able to command that space and operate within it," he said.
The second round of Pakistan-US Strategic dialogue focussing on issues such as security, counter-terrorism and law enforcement began today morning. The Pakistan delegation was headed by advisor to the Prime Minister on national security and foreign affairs Sartaj Aziz, while US Secretary of State John Kerry is heading the US delegation.
The dialogue focused mainly on energy, security, strategic stability, non-proliferation, counter-terrorism, economy, law enforcement and defence-related issues.
Kerry arrived in Islamabad on Monday evening on a two-day visit following his trip to India.