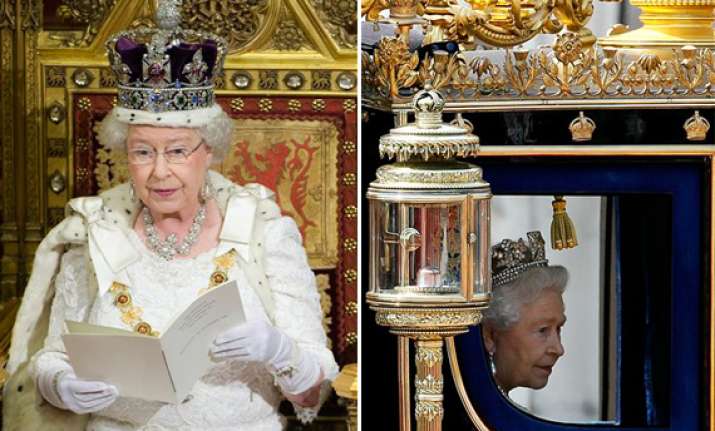 London, Jun 2: Even as Diamond Jubilee festivities officially begin Saturday to mark Queen Elizabeth's 60 years on the throne, the Queen's closest friends say she means to keep the promise of devoting her life, whether short or long , to the service of the people, insisting she will 'never, never, never' abdicate, reports 'Daily Mail'.
Confidantes of the queen told the Mail that the Queen is as determined as ever to serve her country for the rest of her life.
Her fierce resolve should not be seen as a snub to her son and heir, Prince Charles, they stress, but as a sign of the over-riding sense of duty she has felt since taking her Coronation vows six decades ago.
'The promise she made before God to dedicate her life to her country and to her people all those years ago is one that she takes as seriously today,' said one member of her inner circle.
'As far as she is concerned, that has been it. And that will be it, for the rest of her life.'
On the eve of the festivities yesterday, a wave of tributes poured in for the sovereign, only the second head of state in British history to celebrate a Diamond Jubilee. Her great-great-grandmother Queen Victoria was the first.
The Archbishop of Canterbury called her an 'exceptional gift' to the nation, Prime Minister David Cameron described her as 'brilliant, enduring and resilient' while Prince Charles said simply she was his 'wonderful Mama'.
Millions of flag-waving well-wishers are expected to defy dismal weather and turn out over the extended Bank Holiday weekend for tomorrow's river pageant and a pop concert at Buckingham Palace on Monday.
This will be followed by the official service of thanksgiving at St Paul's and carriage procession though the streets of London on Tuesday.
Thousands are also expected to celebrate with street parties, jamborees and entertainments.
Friends say the 86-year-old Queen, who acceded to the throne at 25, is keen to use this milestone to dedicate herself anew to the country. 'Abdication is not a question, I believe, that she would ever consider.
There is a very spiritual element to the Queen's life, something from which I know she derives great strength, and her vow is one that she intends to keep,' said one friend.
'Queen Victoria would never have considered abdicating and neither will our Queen.'
'And what is so marvellous for us is that she is like a rock in a stormy sea, we know she is there regardless. Everything else around us shakes, but she doesn't.
'Amid all the celebrations this weekend, that is a point we should never forget.'
Another friend, who has known her since childhood, said of the prospect of abdication: 'Never, never, never!'
The friend added: 'Abdicate? She won't, I can promise you that. Queen Victoria would never have considered abdicating and neither will our Queen.
'I know her family, including the Prince of Wales, accept and respect that even if, in the case of Prince Charles, he could be in his 70s or even 80s before he accedes to the throne.'
The same friends also say the Queen is the happiest they have seen her for many, many years, with a renewed optimism about the future of the monarchy.  
'Her family is, at long last, happy and settled, and she is now a great-grandmother twice over with, hopefully, more on the way,' said one. 'I cannot tell you what pleasure it gives her to see that.'
That optimism was echoed in a Mori poll which suggested that public support for Britain remaining a monarchy is at a record high. Eighty per cent favour keeping the monarchy compared with 13 per cent who want a republic.
Yesterday the Archbishop of Canterbury said the Queen was an 'exceptional gift' during times of huge social change.
Dr Rowan Williams gave a personal insight into her character, saying she was 'someone who can be friendly, who can be informal, who can be extremely funny in private... who is quite prepared to tease and to be teased, and who, while retaining her dignity always, doesn't stand on her dignity in a conversation'.