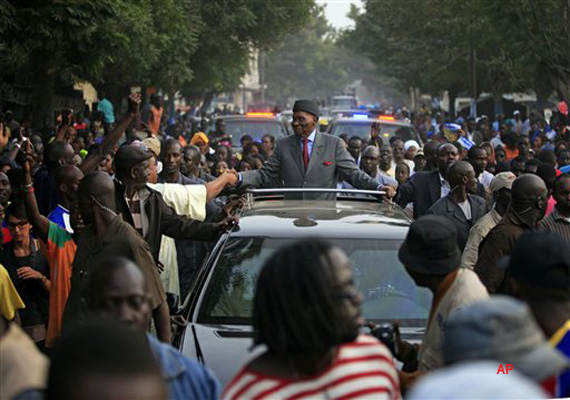 Dakar (Senegal), Feb 9: Clashes erupted between Senegalese security forces and anti-government demonstrators in the regional capital of Thies, where the country's aging president was planning to hold a campaign rally on Wednesday, according to witnesses and a private radio station.

Before the convoy of cars carrying 85-year-old President Abdoulaye Wade had traveled the 70 kilometers from the capital, Dakar, at least five of the cars in the caravan had been attacked by rock-throwing protesters, according to Sud FM radio.

Demonstrators contacted by telephone said they had tried to march toward a major road in order to prevent Wade's convoy from arriving and were pushed back when police opened fire with tear gas.

"They prevented us from reaching the national highway," said 38-year-old El Hadj Diouf, one of the protesters. "We took cover in a neighboring house."

The protesters took to the streets to protest Wade's candidacy in this month's election. Despite his age, he is seeking a third, seven-year term in the Feb. 26 ballot, even though the constitution was amended after he took office to allow a maximum of two.

There have been protests and clashes with police every few days since Januatry 27 when the country's highest court ruled that Wade had the authority to seek a third term.  Last week, US Ambassador Lewis Lukens called Wade's candidacy "unfortunate."

"It's regrettable that President Wade has chosen to compromise the elections, to threaten the security of his country by his insistence on running for a third term," Lukens told local journalists, according to a transcript of the interview published on the online portal Seneweb.com.