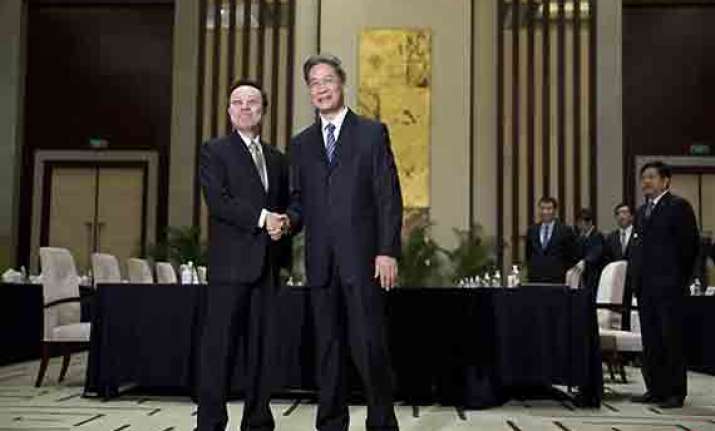 Beijing: The chief officials on cross-Taiwan Strait affairs from the Chinese mainland and Taiwan met formally Tuesday afternoon for the first time since 1949.
Zhang Zhijun, head of the State Council Taiwan Affairs Office, held a formal meeting with Wang Yu-chi, Taiwan's mainland affairs chief, who arrived in Nanjing, capital of east China's Jiangsu Province, Tuesday morning on a four-day visit, Xinhua reported.
The two sides aim to open a regular communication channel between their cross-Strait affairs departments, Zhang said in an opening speech at the meeting.
The communication channel is a result of deepening mutual political trust on the basis of adhering to the "1992 consensus", according to Zhang.
"I believe, with this arrangement, the two sides will improve exchanges, understanding and mutual trust, and better handle outstanding problems in cross-Strait exchanges," he said.
Exchanges between the mainland and Taiwan had stalled since the Kuomintang, led by Chiang Kai-shek, fled to Taiwan in 1949 after being defeated in a civil war.
Business and personnel exchanges resumed in the late 1980s, and in the early 1990s the two sides started to engage with each other through the mainland-based Association for Relations Across the Taiwan Straits (ARATS), and its Taiwan counterpart, the Straits Exchange Foundation (SEF).