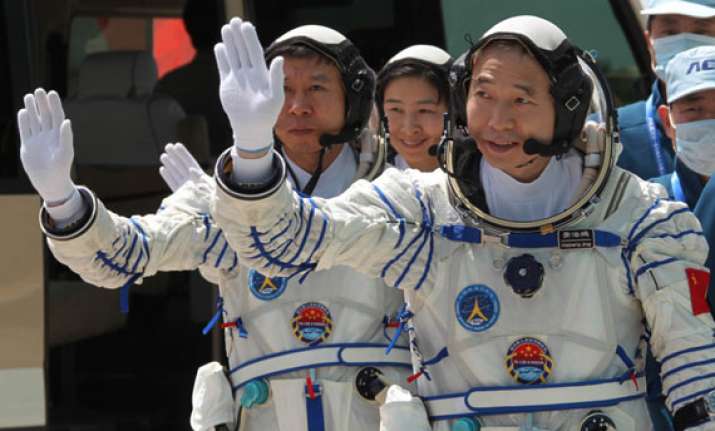 Beijing, Jun 16:
China today fired its longest and heaviest rocket, successfully sending its first woman astronaut along with two male colleagues into space to conduct the maiden manned docking of its space lab being built to rival Russia's Mir International Space Station.
In a text-book launch, Shenzhou-9 (Divine Craft) space ship carrying the three astronauts blasted off from the Jiuquan Satellite Launch Center in Gansu province. About ten minutes later it reached its intended orbit bringing cheers all around.
This is the longest and heaviest rocket China used so far, state television which telecast the event live said. The launch also highlights China's long range missile capability.  Shenzhou-9 will dock with Tiangong-1 module currently orbiting about 343 km above the earth.
This is the fourth time China conducted a manned mission into space. It is regarded as prelude to China's plans to send a manned mission to Moon in the next few years.
Liu Yang, who as an airforce pilot handled many emergencies with calm and composure got the honour to become China's first woman astronaut and world's 57th space woman.
Hailing from Linzhou in Central China's Henan Province, Liu became an astronaut in 2010.
Before the blast off the astronauts were given a reception by Wu Bunggo, Chairman of China's state legislature, the People's Congress.
China conducted first manned mission in 2003 followed it up in 2005 and 2008. Experts say the design of Shenzhou rockets resembles the Russian Soyuz spacecraft.