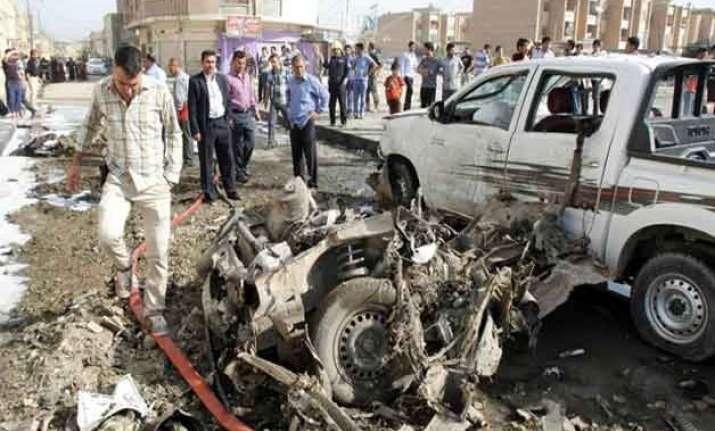 Baghdad: A series of bombings in Baghdad and near the Iraqi capital killed at least 23 people today, officials said.
The deadliest of the day's attacks came shortly before sunset, when a bomb exploded in a street in Baghdad's southeastern suburb of Jisr Diyala.
Minutes later, a car bomb went off near the site of the first blast as people started gathering around it to help the victims.
Police and hospital officials put the casualty toll in Jisr Diyala at up to eight killed and 20 wounded, including several students who had just come out of a nearby school after class.
No group immediately claimed responsibility for the bombings but Iraq sees near-daily attacks, mostly by Sunni insurgents targeting the country's Shiite majority and security forces.
The attacks are often claimed by the Islamic State group, which seized about a third of the country in a blitz last year, along with a swath of territory in neighbouring Syria.
Earlier today, a parked car bomb went off in a commercial area in the town of Mishada, 30 kilometres (20 miles) north of Baghdad, killing at least four civilians and wounding 12, police officials said.
In Baghdad's northwestern Shula neighbourhood, a bomb exploded near a restaurant, killing three civilians and wounded eight, they said. Another bomb also killed three civilians and wounded nine in a commercial area in Youssifiyah, 20 kilometres (12 miles) south of Baghdad.  
Two more civilians were killed and seven others were wounded when a bomb struck an outdoor market in Latifiyah, about 30 kilometres (20 miles) south of Baghdad.  Another bomb hit a police patrol in Madain, about 20 kilometres (14 miles) southeast of Baghdad, killing a police officer and a civilian and wounding five people.  
And in Baghdad's northern Shaab neighbourhood, a bomb blast killed one civilian and wounded five.  Medical officials confirmed the casualty figures from al attacks. All officials spoke on condition of anonymity as they were not authorised to release the information.