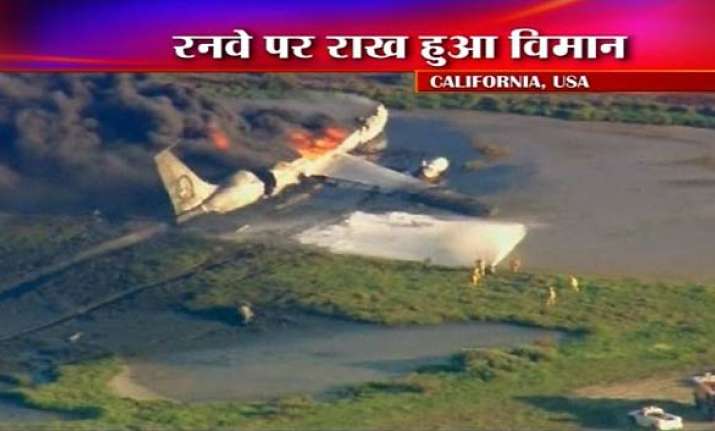 San Francisco, May 19: A Boeing 707 military tanker plane crashed and burst into flames Wednesday as it took off from Point Mugu Naval Air Station in Southern California, injuring the three people on board, an air base spokeswoman said.

Broadcast reports showed thick black smoke and flames pouring from the light-colored aircraft after it went down at 5:25 p.m. and slid off a runway.

The three on board escaped with minor injuries, air station spokeswoman Terry Reid told KCAL-TV.

A Boeing 707 aircraft was engulfed in flames Wednesday evening at the Point Mugu Navy base, officials said.

Three people aboard the Navy aircraft were believed to have escaped as it was burning, the Ventura County Fire Department said. It was unclear whether they were injured.

The plane was loaded with 150,000 pounds of fuel, according to Fire Department spokesman Bill Nash.

He said it was unclear whether the plane was landing or taking off. No other details were immediately available.

Base spokesman Vance Vasquez said the accident happened at around 5.25 p.m. local time when a Boeing 707 tanker aircraft was attempting to depart from runway 2-1.

"It was departing our main runway, 2-1, and it crashed at 5.25 p.m. and apparently it skidded off our main runway. It never did get airborne," Vasquez said, adding that three people were on board. "All three were able to escape out of the aircraft."

Vasquez did not know the extend of their injuries. "Honestly, really all I know is that there were three people on board and that they were able to get out of the aircraft, and that's just a miracle in itself," he added.

The plane involved in the accident was a tanker aircraft that was being operated by Omega Aerial Refueling Services, which operates under a contract with the Naval Air Systems Command.

"[The aircraft] is temporarily based out here at Naval Base Ventura County at Point Mugu and it is supporting fleet operations here, providing tanker support for fighter aircraft," the spokesman said.

Footage from the scene showed large plumes of black smoke billowing from the burning aircraft, causing officials in the area to warn residents to stay indoors. Vasquez said there was around 158,000 pounds of fuel on board.

Vasquez did not know where the aircraft was heading, and Omega's president, W. Stewart Orr, refused to comment on the accident when contacted by telephone.

It was not immediately clear what caused the incident. The Federal Aviation Administration (FAA) and the National Transportation Safety Board (NTSB) are expected to investigate the cause of the accident.