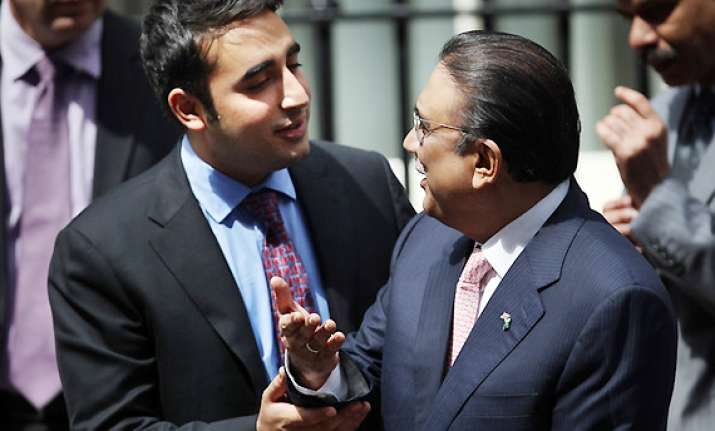 Islamabad, Dec 27: Bhutto family scion and ruling PPP chief Bilawal Bhutto Zardari today forcefully pitched for a "democratic Pakistan" and independent judiciary while batting for a "strong" but apolitical military as talks of government being in confrontation with the army and the courts gathers steam.

"We must remain committed to the evolution of a democratic Pakistan and reject the calls for confrontation between institutions," 23-year-old Bilawal wrote in an article marking the fourth death anniversary of his mother - former premier Benazir Bhutto.

He also stressed on the need to secure "foundations" to face challenges before Pakistan.

The remarks by Bilawal, who has begun playing a larger role in the affairs of the PPP since his father President Asif Ali Zardari was embroiled in the memogate scandal last month, comes against the backdrop of continuing tensions between the civilian government and the powerful military over the alleged memo.

Referring to his mother's killing by a suicide attacker in Rawalpindi four years ago, Bilawal wrote in The Express Tribune: "Had we chosen the path of revolution over evolution on that fateful December 27, both the army and the (PPP) would have been weakened. That would have left the only other armed group, the terrorists, with the opportunity to exploit the situation and seize control of our country". 

Bilawal said the politicisation of the military under dictatorship "engages it in arenas where it has no place and, as a result, weakens its ability to perform its primary function".

Pitching for an independent judiciary, he wrote, "We have always supported an independent judiciary and would never let the abuses of individual judges in the past sabotage our mission of establishing a free, impartial and independent judiciary".

Bilawal said, "This is why we knew in 2007 that we had to distinguish between (former military ruler Pervez) Musharraf and the army as an institution."

He said a strong military is needed in order to protect territorial borders and "defeat the internal cancer of Islamist extremism."

Bilawal said, "We have onerous challenges before us, but to face those, we need to secure our foundation".  The PPP would continue to back "reconciliation and not violent revolution".

The transition to democracy has borne fruit and the elected government "gave ownership to the fight against extremists and made it Pakistan's war", he said. 

"It is only under a democratic government that Pakistan finally stood up to demand respect from the US and to do what the dictator with all his military might could not - evacuate the Shamsi airbase," Bilawal wrote.

His remarks were in reference to actions taken by Pakistan after a cross-border NATO air strike killed 24 Pakistani soldiers last month.

Bilawal said he will never give up on his mother - slain former premier Benazir Bhutto's - dream of a peaceful and progressive Pakistan as her commitment to democracy has empowered the country in many ways. 

"My mother died fighting for a peaceful, prosperous and progressive Pakistan. I will never give up on my mother's Pakistan. I will never give up on the woman who sacrificed herself so Pakistan could be free," Bilawal wrote. 

"Her dreams are now my dreams - that is my promise to you; that is my promise to her," he added. 

Bilawal said the "push for economic and energy reform must go forward, as must our promise to build a Pakistan where education is the path to empowerment". 

Paying tribute to his mother, Bilawal said he was "most focused on what she might have accomplished had she lived".