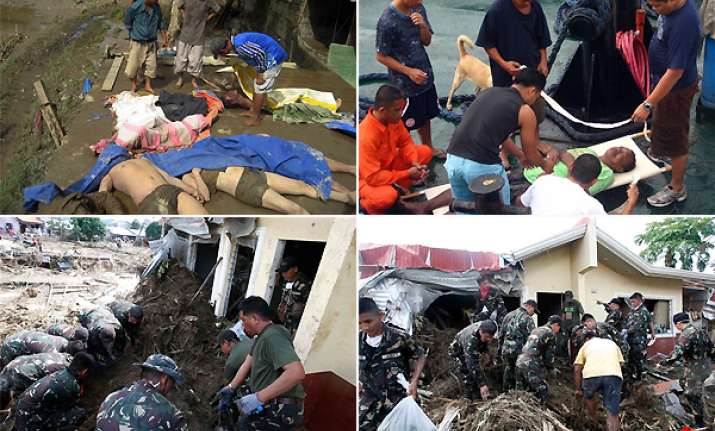 Cagayan De Oro (Philippines), Dec 19: Rescuers struggled against mud, fatigue and the stench of death on Sunday to help survivors of devastating flash floods that have killed more than 650 people in the southern Philippines.

As bodies that had washed out to sea began rising to the surface, mortuaries were overwhelmed in the port cities of Cagayan de Oro and Iligan on Mindanao island in the aftermath of tropical storm Washi.

Local officials in Iligan said they were preparing to bury unclaimed bodies in a mass grave on Monday.

Entire villages were swept away by floodwaters as residents, normally spared from typhoons that ravage other parts of the Philippines every year, slept in the early hours of Saturday despite storm warnings.

The Philippine Red Cross said that 652 people had been confirmed dead by its field staff and another 808 were currently listed as missing.

The head of the government's disaster response agency, Benito Ramos, said its own count stood at 516 deaths and 274 missing but conceded that the toll would likely go higher.

"I'm out here retrieving bodies that are starting to rise to the surface," Ramos told AFP by mobile phone from a rescue boat off Cagayan de Oro.

President Benigno Aquino has ordered a review of the country's disaster defences as it became apparent that residents were unprepared.

Pope Benedict XVI prayed for the victims of the latest natural disaster to hit the largely Roman Catholic archipelago, which is also prone to earthquakes and volcanic eruptions.

The United States offered assistance as Manila appealed for help to feed, clothe and house more than 35,000 people in evacuation centres.

US Secretary of State Hillary Clinton sent condolences and said in a statement: "The US government stands ready to assist Philippine authorities as they respond to this tragedy." China was one of the first countries to announce cash donations.