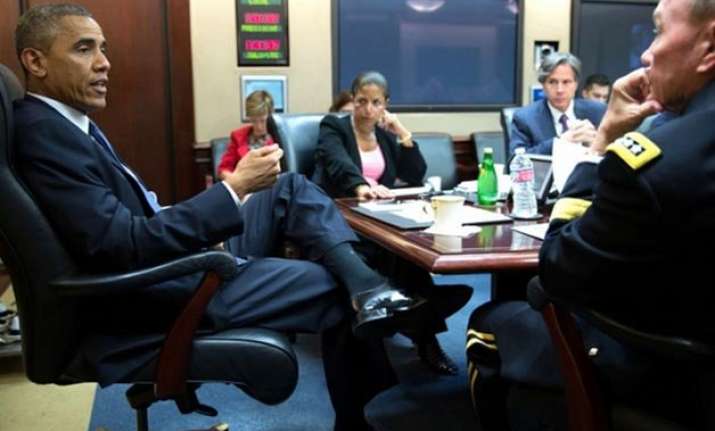 Washington: US President Barack Obama met his National Security Council to discuss strategies for the fight against the Islamic State (IS) terrorist outfit in Iraq and Syria, Efe news agency reported.
The meeting follows what the White House has termed a "setback" which led to the jihadis taking control of the Iraqi city of Ramadi in Al Anbar province.
"The president met with his National Security Council to discuss the situation in Iraq and our strategy to address the threat of IS in Iraq and Syria," the White House said in a statement on Tuesday.
Obama received information "about the latest developments in Iraq and support to Iraqi security forces and tribal fighters that respond to the situation in the province of Al Anbar".
He also applauded the Iraqi Council of Ministers' decision "to accelerate the training and equipping of local tribes in co-ordination with authorities in Al Anbar, increase Iraqi army recruitment and train the local police," said the White House.
The Iraqi government will also "develop a consolidated plan to retake Ramadi with all grouped strengths acting under Iraqi command", the statement added.
Obama "re-affirmed the strong US support" to the government of Iraq and its people in the fight against IS.
The occupation of Ramadi, just 100 km west of Baghdad, is a blow to the Iraqi government.
Its fall strengthens the jihadis' hold in Al Anbar, after their recent military setback in Tikrit.
White House spokesperson Josh Earnest on Tuesday acknowledged the loss of Ramadi as a "setback", but stressed the need to maintain perspective.
"We have had other periods of setbacks that have been shortly followed by important advances," Earnest told media.
The meeting with Obama was attended by US Vice President Joe Biden, Secretary of Defence Ashton Carter, Secretary of State John Kerry (via tele-conference), CIA Director John Brennan, Director of National Intelligence James Clapper, and Secretary of Homeland Security Jeh Johnson among others.