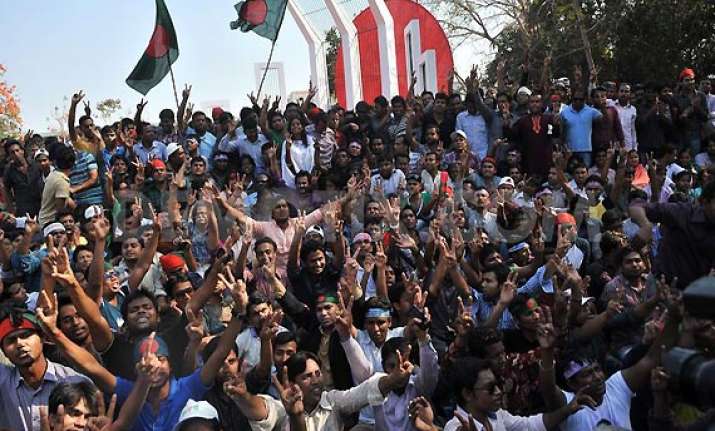 Dhaka, Aug 1: In a landmark ruling, Bangladesh's biggest fundamentalist party Jamaat-e-Islami was today declared "illegal" by the High Court which disqualified it from contesting future polls, leaving the once-most powerful right-wing outfit with an uncertain future.
"It is hereby declared illegal," Moazzem Husain, the chief judge of a High Court panel hearing the high profile case, said while ruling in favour of a petition which argued that Jamaat should never have been allowed to register as a political party as its charter breached the secular Constitution.
"By majority, rule is made absolute and registration given to Jamaat by the Election Commission is declared illegal and void," Justice Husain said amid tight security outside the courthouse here.
Anti-Jamaat protesters gathered outside the packed court flashed V-for-victory signs in celebration, even as Islamists took to the streets of Dhaka and other parts of the country, blocking roads and attacking vehicles, police said.
Scores of Jamaat supporters burnt a bus and damaged several cars as violence broke out just outside the northern city of Bogra.
The party issued a statement calling for a 48-hour shut down across the country beginning August 12.
It has also moved the Appellate Division to overturn the judgment which makes its participation in the coming general elections uncertain.
The election commission has said the ruling meant Jamaat could not stand in the elections scheduled for the end of this year or early next year.
The three-member panel of justices Husain, M Enayetur Rahim and Quazi Reza-Ul Hoque pronounced the judgement accepting a writ petition that challenged the legality of Jamaat's registration as a political party.
Bangladesh Tariqat Federation's Secretary General Rezaul Haque Chandpuri and 24 others had filed the writ petition on January 25, 2009.
Tariqat is a group that preaches Sufi philosophy and promotes secularism. In the petition, they said Jamaat-e-Islami was a religion-based political party and it did not believe in independence and sovereignty of Bangladesh.
The Tariqat Federation claimed in the petition that the Representation of People Order (RPO) law does not allow the registration of a communal outfit as a political party.