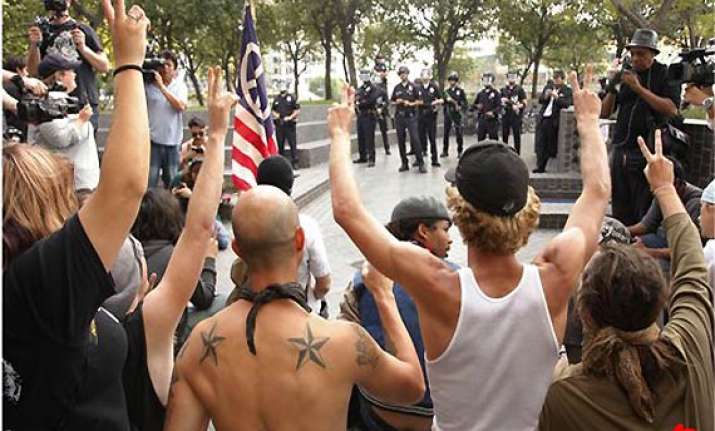 New York/Athens/Rome, Nov 18: Thousands of protesters across US, Greece and Italy flooded streets, squares, bridges and banks on Thursday, snarling traffic and often clashing with the police in a show of support for the Occupy Wall Street movement, two months to the day after the demonstration began, Daily Mail reported.

In Lower Manhattan, protesters tossed aside metal barricades to converge again on Zuccotti Park after failing in an attempt to shut down the New York Stock Exchange. 

In Los Angeles, more than 20 protesters were arrested after ignoring orders to vacate downtown streets. 




In Denver, 100 protesters marched by government buildings and intersections, bringing traffic to a standstill. 

Organized weeks ago, the so-called day of action came two days after the police cleared the Occupy Wall Street encampment from Zuccotti Park in Manhattan in an early morning raid.

Ousted from the park that had become their de facto headquarters, protesters looked to Thursday to gauge the support and mettle that the movement had retained.

"We failed to close the stock exchange, but we took back our park," said Adam Farooqui, 25, of Queens. "That was a real victory."  




Throughout Manhattan on Thursday, about 250 people had been arrested by the evening, many after rough confrontations with the police. The police said that 5 protesters were charged with felony assault, and that 7 officers and 10 protesters were injured.

A group of Occupy Wall Street supporters took a subway to an evening rally in Foley Square.

In more than a dozen cities, the demonstrations included marches across bridges, which protesters said were emblematic of a deteriorating public infrastructure. 

The largest of these marches was to take place across the Brooklyn Bridge. 




Shortly before 6 p.m., about 80 protesters, including a New York City councilman, Jumaane D. Williams, were arrested for blocking a roadway that leads to the Manhattan side of the bridge. Protesters, many carrying candles, later filed across the bridge's pedestrian walkway and crossed the East River.  

The demonstrations came as encampments nationwide were being cleared out by city officials. 

In Philadelphia on Thursday, about 75 members of Occupy Philly met to discuss how to respond to city notices, posted on Wednesday, urging them to leave their encampment because construction plans were imminent. 

Occupy Oakland, where protesters have had sharp confrontations with the police, chose not to participate in the call to action, shifting its next planned protest to Saturday in an effort to "continue this national momentum," according to the group's Web site. 




"I don't think anything is going to stop this," said Jack Kelsh, 47, a bus driver who joined protesters in Denver. "The more resistance they get, the stronger they are going to get and the more rallies you are going to see."

The events in New York City began shortly before 8 a.m. Throughout the morning, the protesters wound their way through the heart of the financial district in an increasingly tense cat-and-mouse game with the police. 

At one point, the protesters engulfed police vehicles, forcing them to halt, and broke police lines, only to be pushed back by metal barricades and swinging batons.  The stock exchange opened for trading as usual at 9:30 a.m. 

The marchers returned to Zuccotti Park, hoisted the police barricades that had been encircling it and rushed past officers, some of whom began shoving demonstrators and throwing punches. 




In the early afternoon, the police led a man with a bloodied face from the park. Onlookers said the man had flicked the hat from an officer's head and rushed into the crowd. Shortly afterward, the police said that the hand of an officer had been badly cut by a shard of glass wielded by a protester near Zuccotti Park, and that the officer's attacker was in custody.  

Protesters had planned to "occupy the subways" in all five boroughs at 3 p.m., but the activist turnout on the trains was scant. At 5 p.m., thousands of protesters and members of about a dozen unions converged on Foley Square.

"It's magnificent," Laurel Sturt, 55, who teaches elementary school at Public School 91 in the Bronx, said as she gazed at the crowd. 

"All great movements of the past started like this."  

At a Midtown gathering of business leaders on Thursday, Mayor Michael R. Bloomberg said that the protests were a dire sign of the public's economic fears.  "The public is getting scared," he said. 




"They don't know what to do, and they're going to strike out." He added, "They just know the system isn't working, and they don't want to wait around."

In Italy, students  clashed with police  in protests against budget cuts, while transport strikes halted buses and trains. 

The clashes came as Premier Mario Monti prepared to unveil his anti-crisis strategy ahead of a confidence vote in his day-old government. Police in riot gear scuffled with students in Milan, where they planned to march to Bocconi University, which forms Italy's business elite.

Monti, an economist and former European Union competition commissioner, is Bocconi's president. Mr Monti formed his government yesterday, shunning politicians and turning to fellow professors, bankers and other business figures to fill key cabinet posts.

His administration is tasked with restoring confidence in the country's financial future and avoiding a worsening in the eurozone's debt crisis.

But his choice of unelected experts to lead the government and the prospect of tough reforms have fuelled unrest among some Italians. 'The government of the banks,' read one placard held by a youth marching in the protest in Milan.

In Palermo, Sicily, demonstrators hurled eggs and smoke bombs at a bank, and protesters threw rocks at police who battled back with pepper sprays. One protester was injured in the head in Palermo, where police charged demonstrators who were trying to occupy another bank.

In Rome, hundreds of students gathered outside Sapienza University, while others assembled near the main train station. They planned to march to the Senate, where Monti was scheduled to speak ahead of the evening confidence vote on the new government.