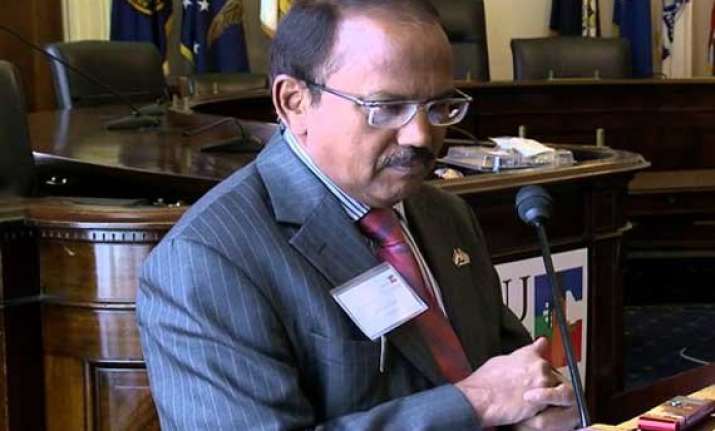 Beijing: National Security Advisor Ajit Doval will arrive here tomorrow to finalise the schedule of Chinese President Xi Jinping's visit amid speculation that he may spend more time in India, including a trip to Gujarat, following the cancellation of his tour to Pakistan.
Doval is expected to firm up Xi's schedule besides wide variety of issues, for which the two sides have already held wide-ranging consultations.
He is due to hold talks with Chinese State Councilor, Yang Jiechi who is Chinese government's pointman for India, on Tuesday and is also expected to call on Xi who is also the general secretary of the Communist Party of China.  
Meanwhile, speculation is rife that the cancellation of Xi's visit to Pakistan may allow him to spend more time in India than planned earlier, perhaps a visit to Prime Minister Narendra Modi's home state Gujarat besides New Delhi.  China has made most of its investments in Gujarat.  
After playing down speculation for days, last night China formally announced the cancellation of Xi's visit to Pakistan due to take place later next week due to the prevailing political crisis in the country.
The Chinese President's first visit to the subcontinent was beset with confusion from the start over his wish to visit India first then followed by Pakistan and Sri Lanka as it ran into scheduling problems over President Pranab Mukherjee's planned visit to Vietnam around the same time.  
After wide-ranging deliberations, his programme was rescheduled with a visit to Pakistan and Sri Lanka followed by India.
As per the initial programme, he was due to arrive in New Delhi on September 17 on a three-day visit.
Initial plans by officials from both sides to finalise Xi's visit to either Kochi or Gujarat were put on hold as his visit was confined to New Delhi due to paucity of time.
 
Kochi was planned as part of his focus on the revival of the Maritime Silk Road.
Xi was due to visit the Chinese fishing nets in Kochi that were famous in the early 19th century, and later Gujarat. But due to tight scheduling problems his visit was restricted to Delhi.
Officials indicated that chances are that he could directly visit Gujarat, perhaps along with Modi and later go to New Delhi.
Besides finalising Xi's schedule, Doval is also expected to discuss the broad range of issues of mutual interest that will figure in the talks.
Xi is expected to announce substantial investments in the Chinese industrial parks in India besides a new route for Indian pilgrims visiting Kailash and Manasarovar in Tibet.
Ahead of Xi's visit, Commerce Minister Nirmala Sitharaman held talks with her Chinese counterpart Gao Hucheng to discuss Chinese plans for investment in India which are expected to be announced by the Chinese president.