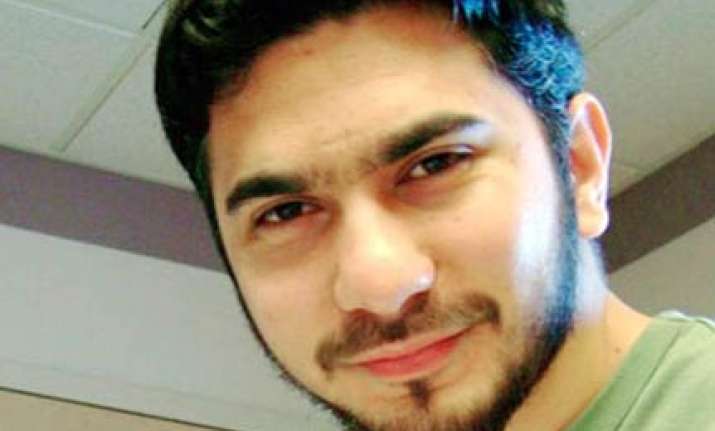 New York: Describing himself a "Muslim soldier", a defiant Pakistani-American Faisal Shahzad pleaded guilty to carrying out the botched Times Square bombing and warned that US would face more attacks, if they don't leave the "Muslim lands". 
Shahzad read out a combative statement in the US District Court in Manhattan as he pleaded guilty to all the ten charges including attempted use of weapons of mass destruction, terrorism and transportation of an explosives. 
He appeared in a Manhattan Court in a white cap and sporting a shaggy beard just days after a Federal grand jury indicted him of the same charges, some of which carried mandatory life sentences. 
"I want to plead guilty, and I'm going to plead guilty 100 times over because until the hour the US pulls its forces from Iraq and Afghanistan, and stops the drone strikes in Somalia and Yemen and in Pakistan, and stops the occupation of Muslim lands, and stops killing the Muslims, and stops reporting the Muslims to its government, we will be attacking US and I plead guilty to that," Shahzad said in a statement. 
The district judge Miriam Goldman Cedarbaum repeatedly questioned the Pakistani born suspect whether he had looked at the children in the Times Square, where he planned to carry out the lethal bombing. 
To the questions Shahzad said, "One has to understand where I'm coming from, I consider myself...Muslim soldier". 
"Listen, you are attacking children with your drones in Afghanistan. I would not consider what I did is crime. I'm aware its violation of the US laws, but I don't care for the US laws," he said. 
The Pakistani-American was pulled off a Dubai bound flight on May 5, two days after he parked a car packed with rudimentary explosives in New York's Broadway entertainment district. 
Shahzad, 30, admitted that he tried to detonate a car bomb hidden in a Nissan Pathfinder in a crowded area of Times Square . 
He also pleaded guilty to the charge of conspiracy to use a weapon of mass destruction when asked by the Judge and then said "yes" when asked if he pleaded guilty to all the charges. 
Shahzad told the judge that he had gone to Pakistan to find the Taliban to get training from them and described himself as "part of the answer to the US terrorising the Muslim nations and the Muslim people".
The father of two children worked as a financial analyst in Connecticut where he lived with his wife. 
They have gone back to stay with his parents in Pakistan. 
Shahzad told the judge that he picked Times Square, a popular tourist spot, on a Saturday evening in order to a "kill" and "injure" many people and it was fair to target civilians because they elected the government. 
The indictment against Shahzad said that he was trained in Pakistan by affiliates of Tehrik-i-Taliban, which is connected to the Pakistani-Taliban and prosecutors claim that he got the money for the terror attack by Pakistani militants. 
The US authorities had suspected the hand of the Pakistani-Taliban in the attack since the beginning of the investigation.
"The facts alleged in this indictment show that the Pakistani Taliban facilitated Faisal Shahzad's attempted attack on American soil," Attorney General Eric H Holder Jr said in a statement last week. 
In court yesterday, Shahzad candidly told the judge that after becoming a US citizen, last year, he went back to Pakistan in June, last year, to first meet with his family and then headed to Peshawar where he received bomb training from Tehrik-i-Taliban and cash. 
Shahzad returned to the US in February and more money followed in March and April. 
Shahzad admitted building three explosive devices in his home in Connecticut and said that he did not know why they did not explode. 
"I was waiting to hear a sound, but I couldn't hear any sound, so I thought it probably didn't go off. So I just walked to the Grand Central and went home," Shahzad said. 
The sentencing has been set for October 5. PTI