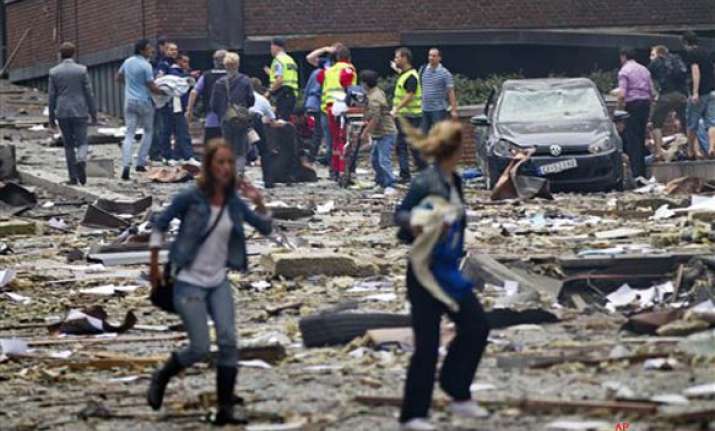 Oslo, Jul 23: A Norwegian gunman disguised as a police officer beckoned his victims closer before shooting them one by one, claiming at least 84 lives, in a horrific killing spree on an idyllic island teeming with youths that has left this peaceful Nordic nation in mourning.

The island tragedy Friday unfolded hours after a massive explosion ripped through a high-rise building housing the prime minister's office, killing seven people in a scene some likened to the aftermath of 9/11.

The same man -- a blonde-blue eyed Norwegian with reported Christian fundamentalist, anti-Muslim views -- is suspected in both attacks. He has been preliminarily charged with acts of terrorism.

On the island of Utoya, panicked teens attending a Labour Party youth wing summer camp plunged into the water or played dead to avoid the assailant in the assault that may have lasted 30 minutes before a SWAT team arrived, police said.

Prime Minister Jens Stoltenberg said the twin attacks made Friday peacetime Norway's deadliest day.


"This is beyond comprehension. It's a nightmare. It's a nightmare for those who have been killed, for their mothers and fathers, family and friends," Stoltenberg told reporters Saturday. He said he would meet victims later in the day on Utoya.

The toll in both attacks reached 91 Saturday, and police said that could still rise as they search the waters around the island for more bodies. Acting Police Chief Roger Andresen said he did not how many people were still missing. The Oslo University hospital said it has so far received 11 wounded from the bombing and 16 people from the camp shooting.

The carnage began Friday afternoon in Oslo, when a bomb rocked the heart of Norway. About two hours later, the shootings began at a retreat for ruling Labour Party's youth-wing, according to a police official. The official spoke on condition of anonymity because that information had not been officially released by Norway's police. The gunman used both automatic weapons and handguns, he said. It was not clear Saturday whether experts had succeeded in disarming a bomb that the official said had been left unexploded.

The blast in Oslo, Norway's capital and the city where the Nobel Peace Prize is awarded, left a square covered in twisted metal, shattered glass and documents expelled from surrounding buildings.

The dust-clogged scene after the blast reminded one visitor from New York of Sept. 11. People were "just covered in rubble," walking through "a fog of debris," said Ian Dutton, who was in a nearby hotel.



While survivors evacuated the buildings, including ones that house other government offices and Norway's leading newspaper, word came that someone had opened fire on an island about 20 miles (35 kilometers) northwest of Oslo.

Stoltenberg told reporters that he had spent many summers on Utoya -- "my childhood paradise that yesterday was transformed into hell."

A SWAT team that had been put on alert after the bombing was dispatched to the island once the shooting began. Police official Johan Fredriksen said that means they may have taken 30 minutes to reach the island.

Survivors described a scene there of terror. Several people fled into the water to escape the rampage, and police said they were still searching the lake for bodies.

A 15-year-old camper named Elise who was on Utoya said she heard gunshots, but then saw a police officer and thought she was safe. Then he started shooting people right before her eyes.

"I saw many dead people," said Elise, whose father, Vidar Myhre, didn't want her to disclose her last name. "He first shot people on the island. Afterward he started shooting people in the water."

Elise said she hid behind the same rock that the killer was standing on. "I could hear his breathing from the top of the rock," she said.

She said it was impossible to say how many minutes passed while she was waiting for him to stop.

At a hotel in the village of Sundvollen, where survivors of the shooting were taken, 21-year-old Dana Berzingi wore pants stained with blood. He said the fake police officer ordered people to come closer, then pulled weapons and ammunition from a bag and started shooting.

Several victims "had pretended they were dead to survive," Berzingi said. But after shooting the victims with one gun, the gunman shot them again in the head with a shotgun, he said.

"I lost several friends," said Berzingi, who used the cell phone of one of those friends to call police.

Police arrested only one suspect and have said he is linked to both the shootings and the Oslo explosion. Though police did not release his name, Norwegian national broadcaster NRK identified him as 32-year-old Anders Behring Breivik and said police searched his Oslo apartment overnight. NRK and other Norwegian media posted pictures of the blond, blue-eyed Norwegian. Faiq Barzingi, whose children survived the massacre, said his kids have identified the photo in media as the gunman.

Police said they were still searching the suspect's Oslo apartment Saturday. An AP reporter said officers were keeping a close watch outside while technicians worked inside. About a dozen people, including journalists and neighbors, were hovering outside, but were not allowed to get close to the building.

Andresen, the acting police chief, said the suspect was talking to police.

"He is clear on the point that he wants to explain himself," he told reporters at a news conference.

An official, who spoke on condition of anonymity, said the attack "is probably more Norway's Oklahoma City than it is Norway's World Trade Center." Domestic terrorists carried out the 1995 attack on a federal building in Oklahoma City, while foreign terrorists were responsible for the Sept. 11, 2001 attacks.

Though the prime minister cautioned against jumping to conclusions about the gunman's motives, both attacks were in areas connected to the left-leaning Labour Party, which leads a coalition government. The youth camp, about 20 miles (35 kilometers) northwest of Oslo, is organized by the party's youth wing, and the prime minister had been scheduled to speak there Saturday.

Sponheim said a man was arrested in the shooting, and the suspect had been observed in Oslo before the explosion there. But he refused to confirm the suspect's identity as reported by Norwegian media.

Sponheim said the camp shooter "wore a sweater with a police sign on it. I can confirm that he wasn't a police employee and never has been."

Aerial images broadcast by Norway's TV2 showed members of a SWAT team dressed in black arriving at the island in boats and running up the dock. People who had stripped down to their underwear moved in the opposite direction, swimming away from the island toward the mainland, some using flotation devices.

The United States, European Union, NATO and the U.K., all quickly condemned the bombing, which Britain's Foreign Secretary William Hague called "horrific" and NATO Secretary-General Anders Fogh Rasmussen deemed a "heinous act."

"It's a reminder that the entire international community has a stake in preventing this kind of terror from occurring," President Barack Obama said.

Obama extended his condolences to Norway's people and offered U.S. assistance with the investigation. He said he remembered how warmly Norwegians treated him in Oslo when he accepted the Nobel Peace Prize in 2009.

A U.S. counterterrorism official said the United States knew of no links to terrorist groups and early indications were the attack was domestic. The official spoke on condition of anonymity because the investigation was being handled by Norway. AP