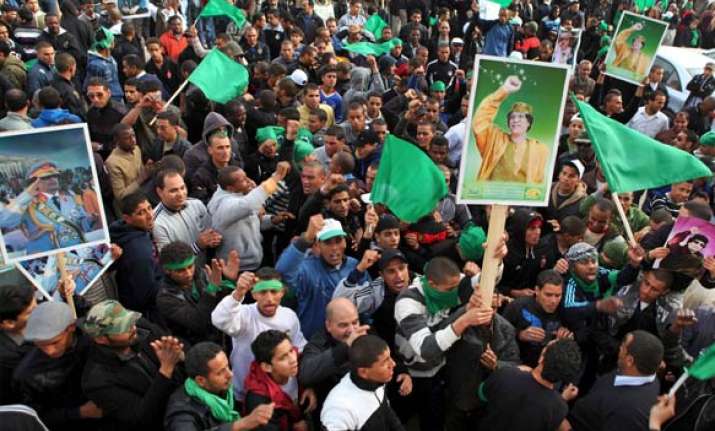 Cairo, Feb 19: Libyan special forces stormed a two-day-old protest encampment in the country's second largest city, clearing the area early today, said witnesses, as a human rights group estimated 84 people have died in the harsh crackdown on days of demonstrations.
Internet was also cut around 2 am removing one of the few ways of Libyans can get out information about the waves of anti-government protests in one of the most isolated and repressive nations in North Africa.
At 5:00 am, special forces attacked hundreds of protesters, including lawyers and judges, camped out in front of the courthouse in the eastern city of Benghazi, which has been a focus for the anti-government unrest.
"They fired tear gas on protesters in tents and cleared the areas after many fled carrying the dead and the injured," one protester said over the phone from Benghazi.
"This is a ghost city; we are all afraid that something big is going to happen in Benghazi today."
The protester spoke on condition of anonymity for fear of reprisal.
Thousands of protesters are calling for the removal Moammar Gadhafi, Libya's leader for the past 42 years, mainly in the cities of the country's impoverished east. Their demonstrations have been brutally suppressed with a combination of armed militias and elite forces.
The New York-based Human Rights Watch estimated 84 people have been killed across the east over the last three days, based on reports from hospitals and witnesses.
"The Libyan authorities should immediately end attacks on peaceful protesters and protect them from assault by pro-government armed groups," the organisation said in its statement.
Residents in Benghazi, which has borne the brunt of the casualties, said just hours before the attack on the encampment, the mood was ebullient as protesters torched police stations, government buildings and took over the local radio station.
They had set up tents on the street in front of the city's courthouse, overlooking the sea.
Doctors in Benghazi said yesterday that 35 bodies had been admitted to the hospital following attacks by security forces backed by militias, on top of more than a dozen killed the day before.
At least five cities of eastern Libya have seen protests and clashes in recent days. AP