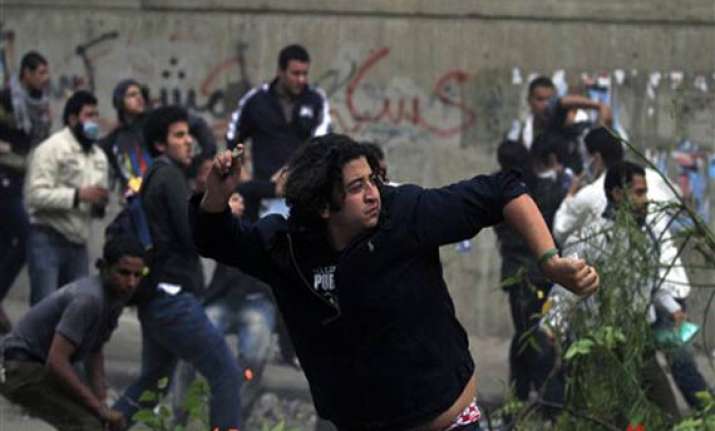 Cairo, Nov 21 : Thousands of protesters on Sunday  clashed with riot police for the control of the iconic Tahrir Square here with violence spreading to three other cities, leading to the death of four people and injuries to 800 others, as the Egyptian cabinet held an emergency meeting over the issue. 

Security forces fired rubber bullets and used tear gas to disperse the angry protesters, who broke chunks of cement from pavements and hurled them at the riot police at the Tahrir Square, in scenes reminiscent of the 18-day long uprising that toppled longtime president Hosni Mubarak in February. 

Three people died of asphyxiation during the clashes. The Health ministry has confirmed three deaths.

State news agency MENA reported that another 25-year-old protester was killed after being hit by a rubber bullet in Alexandria.

 Egyptian state television said 750 people had been injured in the clashes in Cairo, as demonstrations spread to Alexandria, Aswan and Suez.

Egyptian Prime Minister Essam Sharraf held an emergency cabinet meeting to discuss the political crisis and the recent flare-up of violence, the al-Jazeera reported. 

Forty of the wounded were police officers and that 18 "troublemakers" had been arrested, the Al Arabiya news reported quoting state tv.

Thousands of protesters had gathered at the Tahrir Square yesterday to denounce the ruling military council, which has been heavily criticised for delay in political reforms and transition to civilian rule.

The protesters used the social media to appeal to the people to take over the square "to protect their fellow protesters" amid the crackdown on the people assembled in the heart of the capital.

Protests also took place in other cities including Aswan in the south, Alexandria and Suez on the Red Sea, where 10 people including seven demonstrators were injured, a security official said.