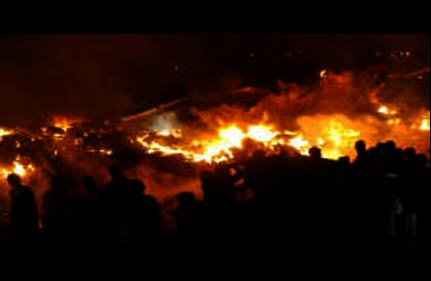 Karachi, Nov 28 (PTI) A Russian cargo plane crashed in a fireball into a naval residential compound seconds after taking off from the airport of the southern Pakistani city today, killing at least 12 people -- all eight crew members on board and four persons on the ground.
The Russian-made Il-76 aircraft, which came from the UAE and was headed to the Sudanese capital Khartoum, crashed near Dalmia area within the cantonment in Karachi at 1.50 am local time. It went down in a part of the naval compound where new apartments were being built.
The ill-fated aircraft came down two minutes after taking off from the city's international airport, said Civil Aviation Authority spokesman Pervaiz George. All eight Russian crew members were killed, he said.
The bodies of at least four construction workers were found in apartments being built at the site, Geo TV reported.
Recovered bodies were badly mutilated and beyond recognition, officials said, adding several people were also injured.
Officials said the casualties would have been higher if the plane of Russia's Sunway Airline had hit several densely populated apartment blocks only a few hundred metres away.
Rescue operations at the crash site gathered steam this morning after hundreds of naval and army personnel moved in with heavy machinery to remove the debris and scour the damaged buildings for victims.
Several witnesses said they had seen the aircraft on fire before it crashed.
'I saw a fireball plummeting to ground," milk seller Mohammad Raees told Geo TV. "It was so huge and quick. I was terrified. I couldn't see what it was. I sped up to save my life and after a few seconds I heard a deafening explosion, but thanks to Allah my life was saved and I was not injured."
Footage on television showed the plane in flames as it plunged towards the ground. The aeroplane exploded in a massive fireball after slamming into the naval compound, due to which about 20 buildings were razed or damaged.
The crash caused widespread panic among Karachi residents as many people initially thought the explosion was due to a bomb.
Fire trucks sprayed foam on the crash site and extinguished the blaze after two hours.
The control tower had learnt that the plane caught fire soon after take-off, George said.
The crash was the second this month in Karachi and the third in Pakistan in less than five months.
On November 5, all 21 people on board a small aircraft chartered by an international oil company were killed when it crashed shortly after taking off from Karachi.  That aircraft crashed within an army ordnance depot.