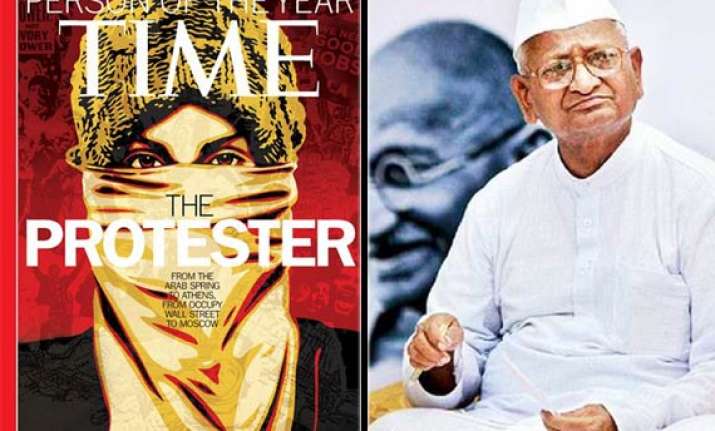 New York, Dec 14: 'The Protester' is the Time's 2011 Person of the Year, as the magazine honoured those who stood up for common people, from India's anti-graft crusader Anna Hazare to Tunisia's street vendor Mohammed Bouazizi, who set himself on fire sparking the Arab Spring.

The US magazine said the revolution began in Tunisia, "where the dictator's power grabbing and high living crossed a line of shamelessness, and a commonplace bit of government callousness against an ordinary citizen - a 26-year-old street vendor named Mohamed Bouazizi - became the final straw."

Last year, the Time picked Facebook founder Mark Zuckerberg, whose competitors included another 21st century communications guru, WikiLeaks maestro Julian Assange.

Accompanying the Time report is a photo essay of profiles of over 30 ordinary citizens who did not give up in the face of death and torture and continued to fight tyrannical regimes, corruption, inequality and injustice all over the world.

Among the pictures is a close-up profile of a smiling and Gandhi-cap wearing Hazare and one in which he is sitting cross-legged. Its caption reads "anti-corruption crusader in India."

"When God wants to bring in change, he needs a vehicle of change, and I became that vehicle," Hazare is quoted as saying.

Among the other photos is that of Ahmed Harara, a Cairo dentist who was blinded by rubber bullets during clashes in January, protesters from the Occupy Wall Street movement, Egyptian protesters, leading Tunisian feminist Professor Dalenda Largueche, Greek protest dog Loukanikos as well as that of a clenched fist.