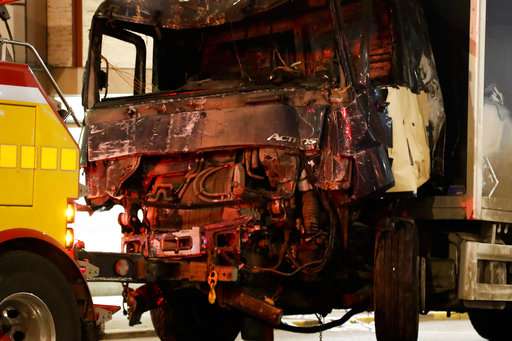 The Swedish police has arrested a man who is suspected to be the driver of the hijacked truck that ploughed into pedestrians on a busy Stockholm street on Friday night. 
Four people were killed  and 15 others were injured in this incident.
The man, arrested in the north of the city, has not been named but Swedish media said he was from Uzbekistan, reported BBC. 
"It is likely that it is the driver of the van that has been arrested," police spokesman Mats Eriksson said. 
"This however does not exclude the possibility of there being more arrests that will follow," he said.
A bag of undetonated explosives was found inside the stolen truck, Sweden's public broadcaster SVT reported, citing multiple police sources.
The explosives were in the form of a homemade bomb in a bag, but did not properly detonate. 
The attacker apparently suffered burns of some kind caused by the explosives, said the report.
However, the police said they were unable to confirm local television reports of explosives being found inside the truck.
The Swedish Security Service said the attack happened just before 3 p.m. on Friday. 
The truck crashed into the front of Ahlens department store on Drottninggatan (Queen Street), one of the city's main pedestrian thoroughfares.
People were seen fleeing the area in panic after what appeared to be the latest use of a vehicle as a weapon of terror in Europe.
Witnesses described horrifying scenes outside the store as bodies and injured people lay on the ground.
Swedish Prime Minister Stefan Lofven called the incident a terrorist attack, with borders tightened at his request.
The street remained cordoned off on Saturday morning and the truck had been removed overnight from the building where it was wedged. Heavily armed officers guarded the area.
The suspect was detained on Friday evening after police released a grainy security camera image of a person of interest dressed in a hooded jacket. 
A second arrest was reportedly made later.
Sweden's Deputy Prime Minister Isabella Lovin and Education Minister Gustaf Fridolin paid tribute to the victims of the attack as they left flowers at the scene.
"This is unfortunately something we are seeing in many countries in the world, but we have to stand up for our open society," Lovin told reporters.
(With IANS inputs)