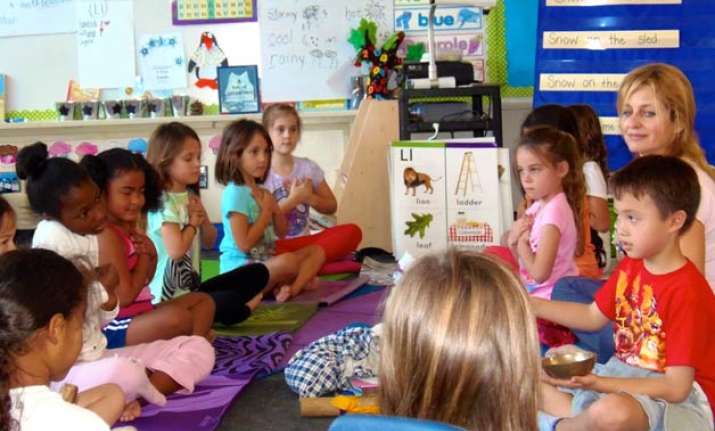 New Delhi: An elementary school in Kennesaw, Georgia, United States, has banned 'Namaste', the art of folding hands to greet, in the school after parents insisted that the administration stop teaching yoga to their children. Their concern, parents said , was that yoga represents the cultivation of non-Christian beliefs.
Bullard Elementary School implemented yoga to de-stress students' minds in the fast paced world. However, this did not go well with the guardians who raised their voice against this 'far-east ideology.'
Christopher Smith, whose sons attend Bullard wrote on his Facebook wall,
"Now we can't pray in our schools or practice Christianity but they are allowing this Far East mystical religion with crystals and chants to be practiced under the guise of stress release meditation," he wrote. "This is very scary."
Patrice Moore, the principal, noted the rumours about "crystals having healing powers." Citing the concern raised by parents about yoga's spiritual origins, Moore sent an email to them assuring them that some of the practices will be stopped.
"I am truly sorry that the mindfulness/ de-stressing practices here at Bullard caused many misconceptions that in turn created a distraction in our school and community," Moore wrote. "While we have been practicing de-stressing techniques in many classrooms for years, there have been some recent practices associated with mindfulness that are offensive to some."
'Namaste', placing hands 'to heart centre' and coloring pages with the symbol of the Mandala, have now been banned in the school.
However, a yoga instructor stood by the decision of the school to teach yoga saying that it doesn't endorse any faith.
"It's a way to get children aware of their breath patterns, their tendencies and habits," Crawford told the Journal-Constitution. "Often times they're focused outwardly, they're not focused inwardly. It helps them if they're very worried. … It's a physical act, but you're using your mind and your breath."