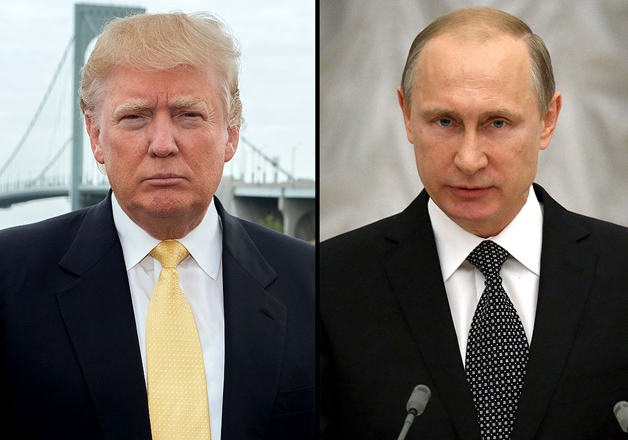 Russia has denied that an agreement was reached on a meeting between Russian President Vladimir Putin and United States President-elect Donald Trump on neutral ground.
Russian Presidential spokesman Dmitry Peskov explained on Monday that all information on preliminary agreements on a meeting between Vladimir Putin and Donald Trump is incorrect.
Peskov emphasized that Putin and Trump have not addressed the possibility of a future meeting and there are no preparations in progress on this matter.
The spokesman pointed out that the Russian embassy in Washington has only communicated with the Trump team for protocol reasons.
The clarification comes in the wake a British newspaper report that an early meeting between Putin and Trump will be held in Reykjavik, Iceland.
As for Trump's proposal to end sanctions against Russia in exchange for a new cut of the nuclear arsenals, Peskov stressed that Moscow would not take any initiative until Trump's inauguration.
Meanwhile, a close ally of President Putin on Monday said that 'Russia was ready to resume cooperation with the United States on security issues such as the fight against terrorism and cyber crime'.
Trump, who has praised Putin as "very smart", has signaled he wants to improve strained ties with Russia, despite US intelligence agencies alleging the Kremlin chief ordered a cyber campaign to discredit rival Hillary Clinton during the 2016 presidential race.
In an interview published on Monday, Nikolai Patrushev, secretary of Russia's Security Council, struck a cautiously positive tone on the prospects for collaboration with Washington after a period of icy relations under Barack Obama.
"If Donald Trump's administration is interested we will be ready to resume full-format consultations with our American partners through the Russian Federation's Security Council," Patrushev said.
However, Patrushev added that he did not expect rapid improvements or a swift lifting of sanctions he said the West had deliberately imposed to "hold Russia back" because the two sides were starting from such a low base.
With Agency Inputs