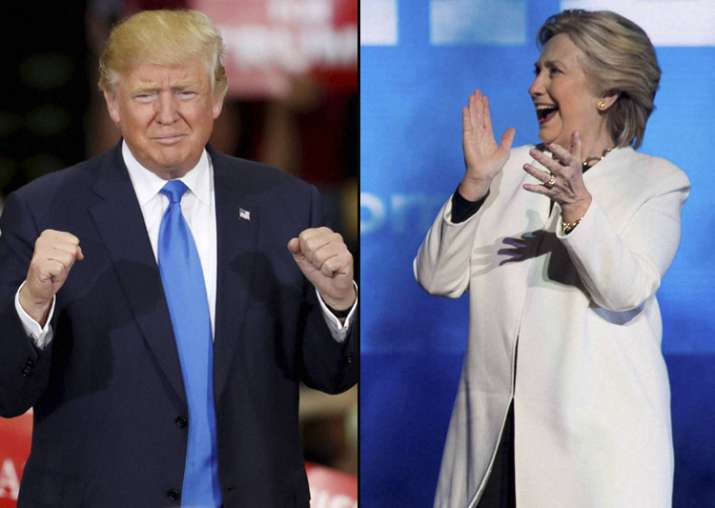 A latest poll said on the eve of US Presidential elections today said that Democratic candidate Hillary Clinton is leading her Republican rival Donald Trump by four percentage points. 
Clinton has the support of 48 per cent of likely voters as against 44 per cent for Trump, Fox News said in its latest poll. 
Another poll by CBS News gave Clinton a four percentage-point lead over Donald Trump by 45-41 percent. 
She had a similar lead over Trump in the last weekly poll. 
CBS poll was conducted by telephone November- 2-6, 2016 among a random sample of 1,753 adults nationwide, including 1,426 registered voters. 
CBS said Trump leads among white men, whites without a college degree, and seniors. 
On the other hand Clinton leads among women, African-Americans and younger voters. She has an edge among whites with a college degree, the poll said. 
In the RealClearPolitics average of polls, Trump is now trailing by two percentage points. 
According to Fox, Clinton is winning among women by 12 points (52-40 percent), blacks by 85 (89-4 percent), Hispanics by 33 (63-30 percent), and voters under 30 by 16 (51-35 percent).
Trump is favored among men by 5 points (48-43 percent), whites by 17 (54-37 percent), white evangelical Christians by 63 (78-15 percent), and whites without a college degree by 31 (61-30 percent), Fox News said. 
Trump is ahead of Clinton among veterans by 56-38 percent.  She leads with first-time voters, by 48-42 percent.
The Fox News Poll is based on landline and cellphone interviews with 1,410 randomly chosen registered voters nationwide. 
Both the candidates today scrambled to make their final pitch to voters in the closely-contested race dogged by controversies Hillary's email scandal and sexual assault allegations against Trump. 
As the final countdown for presidential election, branded as the most bitter and divisive in the US history, began today, Clinton, 69, and her running mate Tim Kaine's campaign received a last-minute boost by news that the FBI had found no new troublesome emails in a review of the former secretary of state's private server and she will not face criminal charges.
Seeking to become the first female president of America, Clinton relieved by the latest development will end her campaign with a rally in the battleground state of North Carolina at midnight local time.
Republican candidate Trump will close his campaign with an event in Grand Rapids, Michigan, a state where he is hoping to pull off a huge surprise.