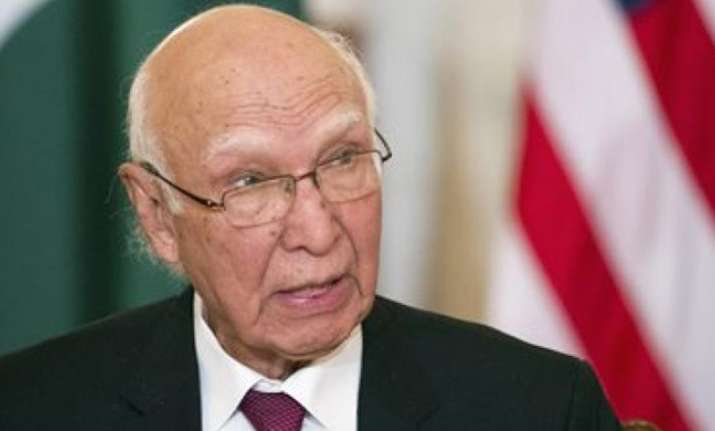 Pakistan today clarified that no "backdoor" diplomacy was underway with India.
Sartaj Aziz, Pakistan Prime Minister's Advisor on Foreign Affairs, also added that the composite dialogue process between India and Pakistan remained suspended.
"There was no backdoor or track-II diplomacy going on between Pakistan and India, as such kind of contacts were established on the desire of two sides," Sartaj Aziz told a Pakistan based news channel.
Sartaj Aziz also alleged that India has the habit of blaming Pakistan for militancy without any proof.
"India had the habit of blaming Pakistan after every terrorist incident in their country without providing any solid evidence," he said.
Referring to Pakistan Prime Minister Nawaz Sharif's address at the UN General Assembly, Aziz said that issue of Kashmir and the continued "human rights violations" there were the focus of his speech.
He also rejected the notion of Pakistan's diplomatic isolation and claimed that his country was moving in the right direction, according to the state-run news agency Associated Press of Pakistan.
He said that with the major "re-alignments" underway at global and geo-strategic levels, Pakistan was moving in the right direction.
"Development of Eurasia by Russia and China, activation of SCO (Shanghai Cooperation Organisation), formation of AIB (Asian Investment Bank), etc., indicated major re-alignments," he said.
Aziz said the cause of concern in the western countries about Pakistan was its growing relations and cooperation with China.
He said Pakistan also enjoyed good bilateral ties with the US, the UK, the European Union, the Middle East and other regions of the world.
Aziz's remarks come amid strain in ties following the Uri terror attack in which 19 Indian soldiers were killed and India's surgical strikes on seven terror launch pads across the LoC on the intervening night of September 28 and 29. 
(With PTI inputs)