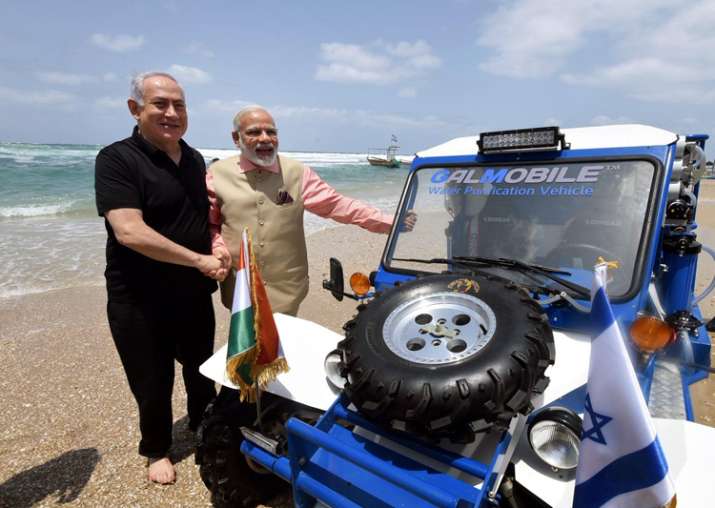 Prime Minister Narendra Modi along with his Israeli counterpart Benjamin Netanyahu today witnessed the demonstration of sea water purification technology pioneered by Israel at a water desalination unit on Olga Beach here. Both the leaders, dressed casually, carefully listened to the demonstration at the Gal-Mobile water desalination unit on Olga Beach and also had a long chat among themselves. 
Gal-Mobile is an independent, integrated water purification vehicle, designed to produce high-quality drinking water. It can be useful in natural disasters like floods, earthquakes, military use in difficult terrain and rural areas to provide drinkable water, the Indian Prime Minister's Office said. 
PMs view demo of a tech pioneered by 🇮🇱for desalination of sea water n purification in disaster-hit n remote areas pic.twitter.com/0OXEURV89D

— Raveesh Kumar (@MEAIndia) July 6, 2017
"It can purify up to 20,000 litres per day of sea water and 80,000 litres per day of brackish/muddy or contaminated river water and bring it to WHO standards," it said. 
Modi and Netanyahu viewed the demonstration, tasted the purified water and also rode the unique vehicle. 
Yesterday Modi and Netanyahu had held talks and agreed to establish a "strategic partnership in water and agriculture". The partnership will focus on water conservation, waste-water treatment and its reuse for agriculture, desalination, water utility reforms, and the cleaning of the Ganges and other rivers using advanced water technologies, a joint statement issued after the talks had said.