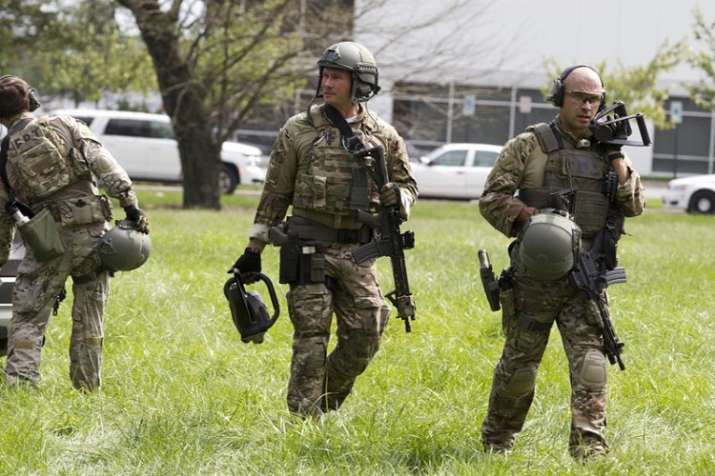 A woman opened fire with a handgun on Thursday at a warehouse in the eastern US state of Maryland killing three people and injuring another three before fatally shooting herself.
Harford County Sheriff Jeffrey Gahler said at a news conference that the woman was later identified as a temporary employee of the distribution center, Snochia Moseley of Baltimore County.
"She had reported for her workday as usual, and around 9 a.m. the shooting began, striking victims both outside the business and inside the facility," Gahler said. "We do not at this time have a motive for this senseless crime."
The sheriff said the call about shots fired came in at about 9:06 a.m. and deputies and other officers were on the scene in just over five minutes. The shooting began outside the business and continued inside, he said.
It appears only one weapon was used — a 9 mm Glock handgun that was registered in Moseley's name — and no shots were fired by responding law enforcement officers, Gahler said.
The sheriff said three victims were fatally shot and three more were wounded but were expected to survive. They were not immediately identified. Moseley died at a hospital from a self-inflicted gunshot wound, Gahler said.
Area hospitals reported receiving five patients from the incident.
Susan Henderson, spokeswoman for the drugstore chain Rite Aid, described the building where the shooting took place as a support facility adjacent to a larger building. The company said in a statement that the facility had been closed temporarily and grief counselors will be made available to workers.
The company didn't immediately respond to an inquiry about Moseley's employment history.
Mike Carre, an employee of a furniture logistics operation next to the distribution center, said he helped tend to a wounded man who came hobbling in, bleeding from his leg. He called 911 from a bathroom before helping colleagues wrap the man's blood-soaked jeans above his injury to cut off blood flow.
Carre said the man told him the shooter "just came in in a bad mood this morning. He said she's usually nice. But today, I guess it wasn't her day. She just came in to pick a fight with someone."
"She pulled out a gun and she just started shooting at her co-workers."
Harford County Executive Barry Glassman said that, unfortunately, incidents like this are "becoming a too-often occurrence not only in Harford County but in the country."
The attack came nearly three months after a man armed with a shotgun attacked a newspaper office in Annapolis, Maryland, killing five staff members. Authorities accused Jarrod W. Ramos of attacking The Capital Gazette because of a longstanding grudge against the paper.
It came less than a year after a fatal workplace shooting less than 10 miles (16 kilometers) from the warehouse, in which five were shot, three fatally. And it followed another shooting Wednesday in Wisconsin in which authorities say a gunman shot four co-workers before being killed by responding officers.