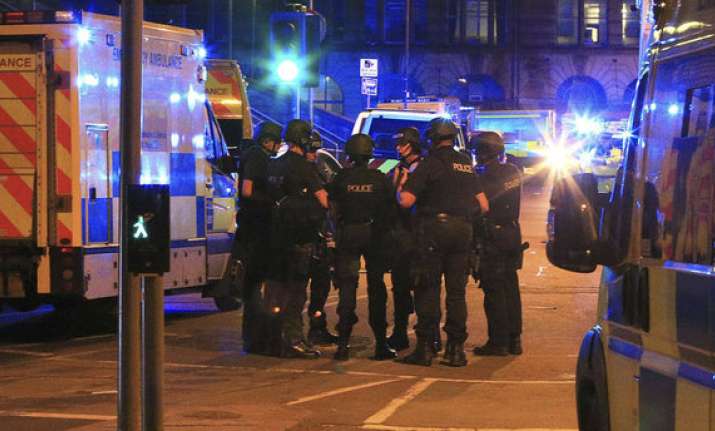 A total of seven suspects have been arrested so far by the British police in connection with the Manchester terror attack that killed 22 people on Monday night.
A woman was arrested on Wednesday after armed police raided a block of flats in the north of Manchester, Sky News reported. 
Another male suspect was arrested at an address in Nuneaton, Warwickshire, following searches connected to the attack, police said. 
It was the first arrest outside the Manchester area. All the previous arrests were made in and around Manchester in northwest England where the suicide bombing took place.
This has made the total number of suspects linked to the attack rise to seven so far. 
"As it stands, six men and one woman have been arrested in conjunction with the investigation and remain in custody for questioning, " the Greater Manchester Police force said in a statement.  
Meanwhile, Senior police chiefs in Britain reacted with anger Wednesday night after sensitive details of the Manchester Arena suicide bombing were leaked to media in the US. 
The National Police Chiefs' Council said the leaks undermines the investigation into the terror attack.
According to the Guardian, Prime Minister Theresa May will confront US President Donald Trump over the stream of leaks of crucial intelligence when the pair meet Thursday at the NATO summit meeting in Brussels.
A suicide bombing attack on Manchester Arena on Monday evening led to 22 deaths and 64 injuries. The suicide bomber's identity has been revealed by the police as Salman Abedi, 22, a son of Libyan parents who fled their native country and sought refuge in Britain.
Meanwhile, Abedi's father and younger brother have also been arrested in Libya following the attack.
According to media reports, Libya's intelligence services had arrested Hashem Abedi, who like his older brother Salman was born in Britain, on Tuesday. 
One of the forces that supports Libya's UN-backed unity government posted a picture on its Facebook page of Hashem Abedi after detaining him. 
"The father, Ramadan Abedi, has also just been arrested," Ahmed bin Salem, a spokesman for the Deterrence Force, said.
(With agency inputs)