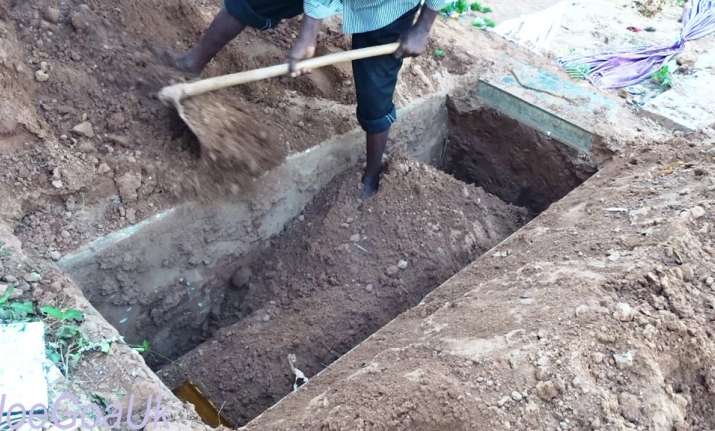 In a shocking incident, a dead body of 56-year-old man has gone missing from the burial site at Sankhalim village located around 50 kms from Panaji, police said Saturday.
The incident came to light Saturday when the family members of the deceased, Karim Ahmad Akhtar, found his grave half-dug and reported the matter to police. 
However, when the authorities got the grave dug up, the body could not be found there.
"Akhtar had died nine days back, following which his body was buried at the graveyard in Sankhalim. However, the body has now gone missing," inspector Narayan Chimulkar, in charge of Bicholim police station, told reporters in Sankhalim.
"Akhtar's family members had come to the graveyard to perform some rituals today. But, they found that the grave had been partially dug. They immediately informed the kabrastan (graveyard) committee, who came to the spot and then police were called in," he said.
According to Chimulkar, Akhtar's family members lodged a complaint with the police, after which the grave was dug in the presence of Sub Divisional Magistrate. "However, the body was not found there," he added.
Sniffer dogs were brought to the spot, but failed to make any headway, the officer said.
Sankhalim Municipal Council Chairman Dharmesh Saglani, who was present at the spot when the police arrived, said the civic body will install CCTV cameras inside the graveyard to avoid recurrence of such incidents in future.
"We will also put up proper gates at the graveyard and make sure that the graves are not damaged this way," he added.
The family members and friends of the deceased have expressed shock over the incident. "In my entire life, I have not seen such incident happening in the graveyard," 62-year-old Anwar Khan, a family friend of the Akhtar, told reporters.
He said they would wait for the police probe to get over to know what has exactly happened.
(With inputs from PTI)