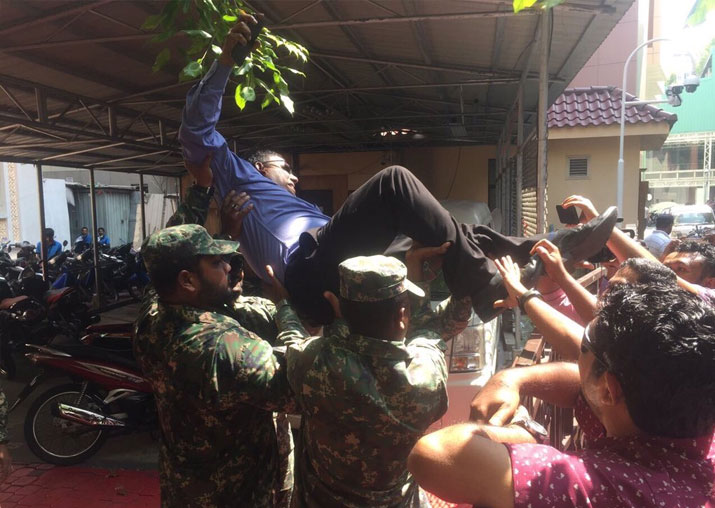 Opposition MPs were today manhandled and thrown out of the Parliament building in Male by the army.
Pictures and video footage showed lawmakers being hauled away from the building then hoisted over the gate by army officers. 
"Parliament under military siege in #Maldives parliament today members were thrown out of the parliament building compound," tweeted Maldivian Democratic Party (MDP) Thilafaiy.
"Security Forces literally throws an MP out of the Majlis premises! The Chief Justice Abdulla Saeed was telling the truth when he said he was forcefully dragged on the floor from his chambers," tweeted MDP Secretary General Anas Abdul Sattar.
The latest crisis in Maldives erupted after the government declared an emergency for 15 days and arrested the Chief Justice and another judge of the Supreme Court. 
The apex court had earlier ordered a retrial of nine opposition leaders, including the exiled former President Mohamed Nasheed. The court had said that those arrested must be released. The top court had also called for the reinstatement of 12 opposition lawmakers.
President Abdulla Yameen's government initially said it would abide by the order but subsequently decided to disregard the ruling and claim it had thwarted a coup attempt by former president Maumoon Abdul Gayoom and Chief Justice Abdulla Saeed, both under custody at the moment.
Saeed and another Supreme Court judge, Ali Hameed, were suspended from their duties by the Judicial Service Commission. After their arrest, the Supreme Court reversed the earlier order on the release and retrial of opposition leaders. 
Meanwhile, UN Secretary-General Antonio Guterres has urged the Maldivian government to lift the emergency soon.