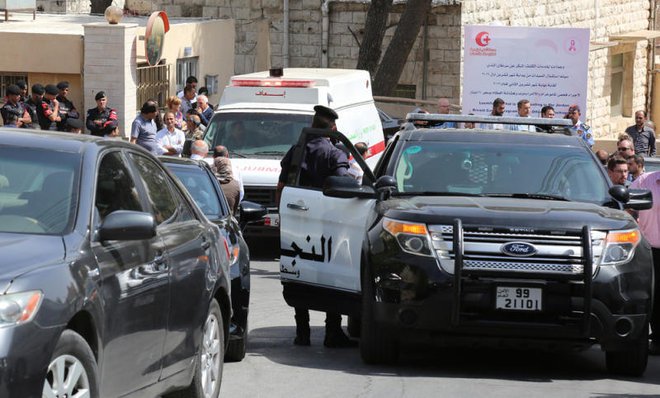 A gunman shot dead Jordanian writer Nahed Hattar on Sunday outside the court where he was to stand trial on charges of contempt of religion after sharing on social media a caricature seen as insulting Islam, witnesses and state media said.
The gunman was arrested at the scene, state news agency Petra said. A security source said he was a 39-year-old preacher in a mosque in Amman. The Jordanian government condemned the attack.
 

"The law will be strictly enforced on the culprit who did this criminal act and will hit with an iron fist anyone who tries to harm state of law," government spokesman Mohammad Momani said.

 
Hattar, a Christian and an anti-radical activist who was a supporter of Syrian President Bashar Assad, was arrested last month after he shared a controversial caricature. Many conservative Jordanians considered Hattar's move offensive and against Islam. The authorities said he violated the law by sharing the caricature.
Petra quoted a security source as saying Hattar was killed by a man who fired three shots at him on the steps of the palace of justice in the Jordanian capital.
"The assailant was arrested and investigations are ongoing," Petra quoted the security source as saying.
Some secular and liberal supporters of Hattar said his arrest last month was a breach of freedom of speech but other Jordanians thought the caricature's publication had crossed the red line.
Hattar was charged with contempt of religion and sowing sectarian tensions. The country's highest official religious fatwa authority criticized Hattar for what it said was the "insult to the divine entity, Islam and religious symbols."
Hattar had apologized on social media and said he did not mean to insult God but had shared the cartoon to mock fundamentalist Sunni radicals and what he said was their vision of God and heaven. He had accused his Islamist opponents of using the cartoon to settle scores with him.
Hattar also supported restricting the rights and privileges of Jordanians of Palestinian descent.
The Muslim Brotherhood group warned against a flare up in religious and sectarian tensions in a country in which Jordanian Christians are a minority but wield wide political and economic influence.
AP inputs