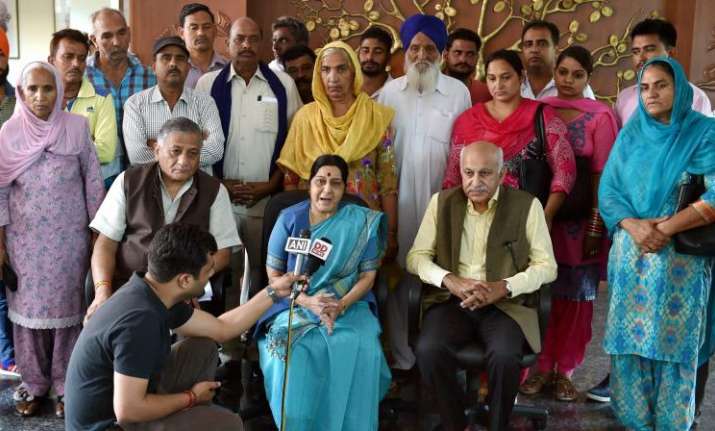 The Iraq Embassy on Sunday informed India that search operations are underway to locate the 39 missing Indians, which were taken hostage by the Islamic State in Mosul in 2014. 
It further assured that there is a high-level coordination between concerned Iraqi and Indian authorities to locate them.
The fate of these Indians is set to come up during bilateral talks between External Affairs Minister Sushma Swaraj and her Iraqi counterpart Ibrahim al-Jaafari today. 
"Regarding the Indian citizens who were taken prisoner by Daesh (IS) terrorist group in 2014, search operations are on and there is high-level coordination between Iraqi and Indian authorities to locate them," the Iraqi embassy was quoted by Hindustan Times as saying. 
Al-Jaafari's visit from July 24 to July 28 to India comes two weeks after Iraqi Prime Minister Haider al-Abadi announced liberation of Mosul, the second biggest city in his country, from the ISIS, which marked a major milestone for the Iraqi security forces.
As liberation of Mosul brightened chances of information about the kidnapped Indians, Swaraj, in a meeting with their relatives last week, had said that they might be languishing in a jail in Badush in northwest of Mosul where fighting was going on. 
However, a media report from Badush yesterday said the jail now is an abandoned structure and has been unoccupied for weeks.
Minister of State for External Affairs V K Singh was sent to Iraq days after the Iraqi PM announced victory in the fight to liberate Mosul. 
Swaraj had told the family members that an Iraqi official quoting intelligence sources had told Singh that the kidnapped Indians were deployed at a hospital construction site and then shifted to a farm before they were put in a jail in Badush. 
She had said al-Jaafari may bring fresh information about the kidnapped Indians, mostly from Punjab.