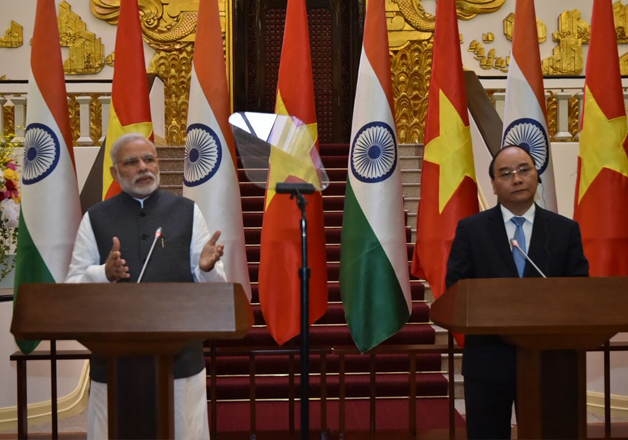 India and Vietnam today signed 12 agreements for cooperation in areas, including defence and IT, to boost bilateral ties.
India also announced to provide patrol boats and extended a USD 500-million (approx Rs 3000 crore) line of credit in the defence sector to Vietnam. The move is seen as a clear sign of New Delhi boosting its presence in southeast Asia's geopolitical scenario.
India also upgraded its relationship with Vietnam from "strategic partnership" to "comprehensive strategic partnership" following delegation-level talks between Prime Minister Narendra Modi and Vietnamese Prime Minister Nguyen Xuan Phuc.
"My conversation with PM Phuc was extensive," Modi said in a joint press address with his Vietnamese counterpart.
"We agreed to tap into the growing economic opportunities in the region," he said.
Stating that the two sides have agreed to upgrade their strategic partnership to comprehensive strategic partnership, Modi said: "PM and I have agreed to deepen our defence cooperation."
He then announced an Indian line of credit of USD 500 million (approx Rs 3000 crore) in the defence sector to Vietnam.
This is the first bilateral prime ministerial visit from India to Vietnam in 15 years since the visit of then premier Atal Bihari Vajpayee in 2001.
Modi, who arrived here on Friday evening, on Saturday morning started by laying a wreath at the Monument of National Heroes and Martyrs here.
He also visited the much revered stilted house where Vietnamese icon Ho Chi Minh lived.
Modi was then accorded a ceremonial welcome with a guard of honour at the Presidential Palace in Hanoi.