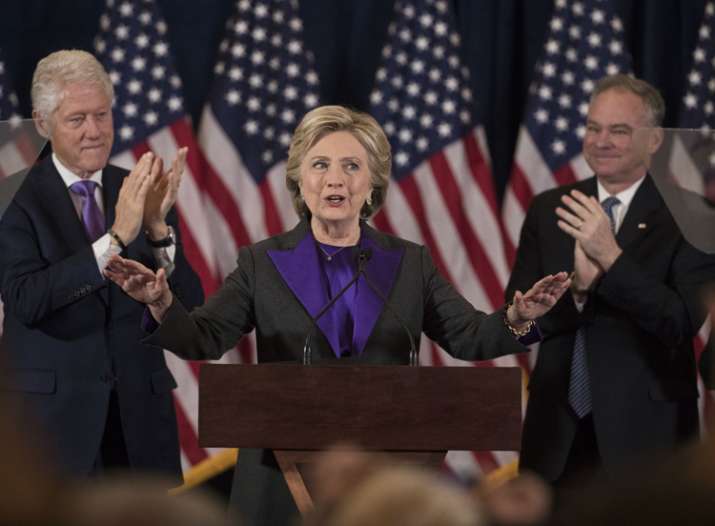 Conceding defeat, an emotional Hillary Clinton on Wednesday offered to work with Donald Trump but with a veiled warning to President elect against acting on what were seen as his aggressive stances towards some people like Muslims and immigrants.
She also added a note of caution saying that her supporters should be ready to defend American values.
As she began her speech to her supporters here on Wednesday, she appeared to wipe a tear from her eyes and fight back tears while her lips quivered during pauses. "I hope he will be a successful president for all Americans," she said. "We owe him an open mind and a chance to lead."
She was responding to Trump's call to bind the wounds inflicted on the nation by the harsh campaign and heal them, with a graciousness that matched his.
Important American values were the rule of law, freedom of worship and equality and respect for all, she said. 
"We cherish these values and must defend them," she commanded her supporters.
With her sombre image reflecting her shock defeat to Trump, Clinton acknowledged that the "pain" of her electoral loss would continue to rankle for a long time.
"I have spent my entire life fighting for what I believed in,.. this loss hurts, but please never stop believing that fighting for what's right is worth it," she told her supporters at her concession speech, where she was flanked by her husband and former President Bill Clinton and running mate, Tim Kaine.
Clinton, whose win would have made her the first woman president of the US, said: "I know we have still not shattered the glass ceiling (of becoming the first woman president), but someone will, and hopefully sooner than we know."
"And to all the little girls who are watching this, never doubt that you are valuable and powerful and deserving of every chance and opportunity in the world to pursue and to achieve your own dreams," she added.
"To every little girl who is watching this, never doubt that you are deserving of every opportunity in the world," she said.
On Trump's presidency, she said: "We owe him an open mind and a chance to lead." 
Clinton thanked US President Barack Obama and his wife Michelle. "To Barack and Michelle Obama. Our country owes you an enormous debt of gratitude. We thank you for your graceful determined leadership that has meant so much."
Moments after Clinton formally conceded to Trump, President Barack Obama on Wednesday said he was heartened by Donald Trump's call for unity after his stunning victory and "we are now all rooting for his success in uniting and leading the country."
Obama spoke to reporters in the Rose Garden of the White House in a post-election ritual meant to signal the peaceful transition of power from one president to the next. He vowed to do all he could to ensure a smooth transition and tried to buck up Democrats still reeling with disappointment and shock.
"We all want what's best for this country," Obama said, noting he was encouraged by Trump's election night remarks urging reconciliation after an especially bitter and long contest.
He spoke just moments after Hillary Clinton formally conceded to Trump with a similar, though more emotional, appeal to give Trump a chance to succeed as president. 
The remarks were striking after a campaign in which the Democrats declared Trump was unfit to serve and told voters the future of democracy was riding on their choice.