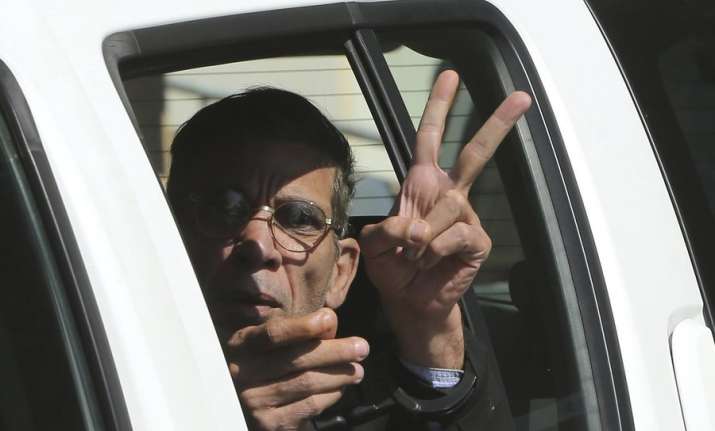 Larnaca (Cyprus): Seif Eddin Mustafa, the man arrested for hijacking a domestic EgyptAir flight and diverting it to the Mediterranean island by threatening to blow it up with an allegedly fake explosives belt on Tuesday, has said that he carried out the act as a desperate measure to meet his wife and family. According to Mustafa, he hadn't seen his family for 24 years.
"What's someone supposed to do when he hasn't seen his wife and children in 24 years and the Egyptian government won't let him?" he told police soon after his arrest.
The authorities have claimed that the motive behind Mustafa hijacking the flight was to meet his Cypriot ex-wife Marina Parashkou and his four children. It is also revealed that Seif Eddin Mustafa was barred from entering the country as his passport was blacklisted. 
Mustafa, today, was sent to detention for eight days after authorities said he admitted hijacking an EgyptAir plane with a fake suicide belt.      
Cyprus police prosecutor Andreas Lambrianou said the suspect, whom authorities had identified as 59-year-old Mustafa, faces preliminary charges including hijacking, illegal possession of explosives, kidnapping and threats to commit violence. The allegation regarding explosives could be dropped if the liquid found with Mustafa is not explosive material.
Judge Maria Loizou said she found the police request for the maximum eight-day detention necessary because of fears the suspect might flee and the fact that he admitted to the hijacking in a voluntary statement to police.
Egypt's General Prosecutor Nabil Sadek, meanwhile, has officially asked Cyprus to extradite Mustafa in order to start an investigation, his office said.
After the hearing Wednesday, a handcuffed Mustafa flashed the "V'' for victory sign out the window of a police vehicle as he was driven away from the Larnaca court house.
Cypriot officials had described Mustafa as "psychologically unstable" following a bizarre set of demands he made to police negotiators, including what Lambrianou said was a letter he wanted delivered to his Cypriot ex-wife in which he demanded the release of 63 dissident women imprisoned in Egypt.
The police prosecutor said witnesses saw Mustafa wearing a white belt with pockets that had cylindrical objects stuffed inside. Wire protruding from the cylinders led to what appeared to be a detonator in his hand. 
(With AP inputs)