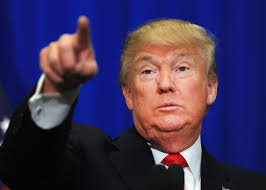 Donald Trump today lashed out at the Muslim father of a fallen American soldier over remarks that the Republican presidential nominee has "sacrificed nothing" for the country, saying he created thousands of jobs and questioned whether his wife was even "allowed" to speak. 
Trump's comments to a news channel about the parents of Army Capt. Humayun Khan drew swift criticism including from his own party and Democratic rival Hillary Clinton.
"Who wrote that? Did Hillary's script writers write it?" Trump said in an interview with ABC News. "I think I've made a lot of sacrifices. I work very, very hard." 
Humayun's father Khizr Khan, in a moving tribute to his son at the Democratic National Convention in Philadelphia while posthumously receiving a Bronze Star and a Purple Heart after he was killed by a suicide bomber in Iraq in 2004, stunned a national audience with a speech directly confronting Trump, who has called for a ban on Muslims entering the US. 
He asking the 70-year-old real estate tycoon to "go look at the graves of brave patriots who died defending the United States of America". "You will see all faiths, genders and ethnicities. You have sacrificed nothing and no one." 
Trump argued he "made a lot of sacrifices" and worked "very, very hard". 
"I've created thousands and thousands of jobs, tens of thousands of jobs, built great structures," he said. "Sure those are sacrifices." 
"I think my popularity with the vets is through the roof," he claimed. 
Responding to a question, Trump alleged that Khan's wife Ghazala, who was standing besides him wearing a headscarf during the speech, was not allowed to speak. 
"His wife, if you look at his wife, she was standing there. She had nothing to say. She probably, may be she wasn't allowed to have anything to say. You tell me, but plenty of people have written that. She was extremely quiet and it looked like she had nothing to say," he said. 
Trump's comments drew sharp reaction nationwide, both for attacking a mourning mother and because many considered them racist and anti-Muslim. 
"This is a time for all Americans to stand with the Khans, and with all the families whose children have died in service to our country. And this is a time to honour the sacrifice of Captain Khan and all the fallen. Captain Khan and his family represent the best of America, and we salute them," Clinton said in a statement. 
Ghazala Khan said that she was too emotional to speak at the Democratic National Convention in Philadelphia last week. She said she is still overwhelmed by her grief and cannot even look at photos of her son without crying. 
"Please. I am very upset when I heard when he said that I didn't say anything. I was in pain. If you were in pain, you fight or you don't say anything. I'm not a fighter, I can't fight. So the best thing I do was quiet," she said. 
In a late night statement, Trump called Humayun "a hero".
The statement that came after Trump was being slammed for being critical of Humayun and his parents said: "While I feel deeply for the loss of his son, Mr. Khan who has never met me, has no right to stand in front of millions of people and claim I have never read the Constitution, (which is false) and say many other inaccurate things. If I become President, I will make America safe again.
"Captain Humayun Khan was a hero to our country and we should honour all who have made the ultimate sacrifice to keep our country safe. The real problem here are the radical Islamic terrorists who killed him, and the efforts of these radicals to enter our country to do us further harm." 
Clinton said she was "very moved to see Ghazala Khan stand bravely and with dignity in support of her son on Thursday night. And I was very moved to hear her speak last night, bravely and with dignity, about her son's life and the ultimate sacrifice he made for his country". 
Khizr Khan said he had invited Ghazala to say something. 
"I invited her - would you like to say something on the stage when the invitation came? And she said, 'You know how it is with me, how upset I get'," Khan said. 
Republican leaders, too, criticised Trump for his remarks on Khan. 
"The (House) Speaker (Paul Ryan) has made clear many times that he rejects this idea, and himself has talked about how Muslim Americans have made the ultimate sacrifice for this country," AshLee Strong, spokesperson of the House Speaker, said in a statement to CBS News. 
Tim Miller, a former communication director of Jeb Bush, described Trump's remarks as 'inhuman'. 
The Trump campaign also released transcripts of the ABC interview, in which the reality TV star said of the father: "He was, you know, very emotional and probably looked like a nice guy to me... And personally, I watched him. I wish him the best of luck." 
"What would you say to that father?" he was asked. 
Trump responded: "Well, I'd say we've had a lot of problems with radical Islamic terrorism. That's what I'd say. We have a lot of problems, where you look at San Bernardino. You look at Orlando. You look at the World Trade Centre. You look at so many different things. 
"You look at what happened to the priest over the weekend in Paris, where his throat was cut, 85-year-old, beloved Catholic priest. You look at what happened in Nice, France, a couple of weeks ago. I'd say you've got to take a look at that, because something is going on. And it's not good." 
In his late night statement, Trump alleged that Clinton "should be held accountable for her central role in destabilising the Middle East". 
"Clinton's actions have been reckless and have directly led to the loss of American lives. And her extreme immigration policies, as also laid out by American victims in Cleveland, will cause the preventable deaths of countless more -- while putting all residents, from all places, at greater risk of terrorism," Trump alleged. 
"As Bernie Sanders said on numerous occasions, Hillary Clinton suffers from "bad judgement". She is not qualified to serve as Commander in Chief.
(With Agency inputs)