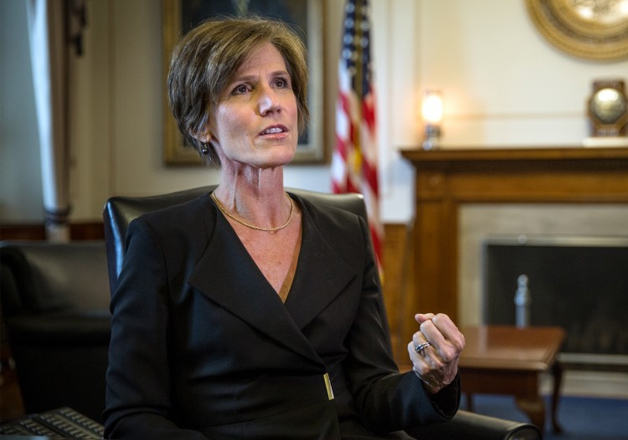 US President Donald Trump today fired acting Attorney General Sally Yates, a Democratic appointee, after she ordered the Justice Department lawyers to stop defending the controversial refugee and immigration ban.
The President has named Dana Boente, US Attorney for the Eastern District of Virginia, to replace Yates, White House spokesman Sean Spicer said in a tweet.
The firing came hours after Yates directed Justice Department attorneys not to defend the executive order, saying she was not convinced it was lawful or consistent with the agency's 'obligation to always seek justice and stand for what is right'.
In a statement, Trump said that Yates had 'betrayed the Department of Justice by refusing to enforce a legal order designed to protect the citizens of the United States'.
Yates' abrupt decision reflected the dissent over the order, with administration officials moving to distance themselves from the policy. 
As protests erupted at airports over the weekend and confusion disrupted travel around the globe, some of Trump's top advisers and fellow Republicans privately noted they were not consulted about the policy.
At least three top national security officials — Defense Secretary Jim Mattis, Homeland Security Secretary John Kelly and Rex Tillerson, who is awaiting confirmation to lead the State Department — have told associates they were not aware of details of the directive until around the time Trump signed it. 
Leading intelligence officials were also left largely in the dark, according to US officials.
Tennessee Sen. Bob Corker, the top Republican on the Senate Foreign Relations committee, said that despite White House assurances that congressional leaders were consulted, he learned about the order in the media.
Trump's order pauses America's entire refugee program for four months and indefinitely bans all those from war-ravaged Syria.