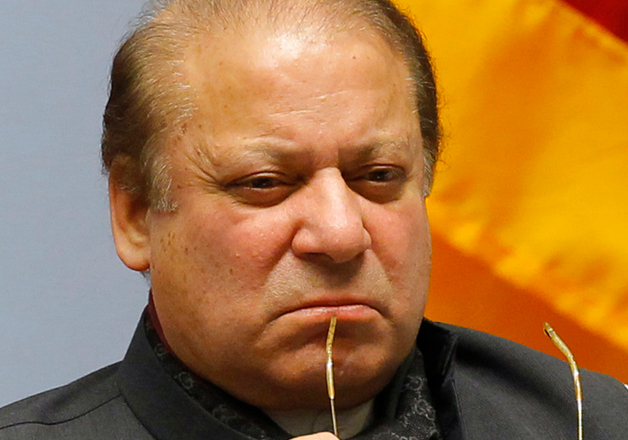 A day after the Indian Army conducted surgical strikes targeting terror camps operating from Pakistan occupied Kashmir, Pakistani Prime Minister Nawaz Sharif today said that his country wants 'peace' in the region and but 'will not allow anyone to cast an evil eye on Pakistan'.
According to Radio Pakistan, Sharif made this comment at a Cabinet meeting held here to discuss the latest situation on the Line of Control (LoC) and in Jammu and Kashmir.
"The entire country stood shoulder to shoulder with the armed forces and we will not allow anyone to cast an evil eye on Pakistan," Radio Pakistan quoted him as saying.
Sharif said Pakistan wanted peace to pursue its development agenda and 'every Pakistani is ready to defend the motherland'.
Pakistan, he said, desired peace to make economic progress and to battle poverty and unemployment.
Sharif further insisted that Kashmir was an 'unfinished agenda of the partition of the sub-continent'.
"New Delhi's continued brutalities in Jammu and Kashmir are unacceptable to Pakistan," he said.
Sharif's comments came a day after India said it had carried out surgical strikes on terrorist launch pads across the Line of Control (LoC).
Advisor on Foreign Affairs Sartaj Aziz, who was also present at the Cabinet meet, said that support to the 'just struggle of the Kashmiri people would remain priority of Pakistan and it would not back down on this account'. 
He said India is indulging in "diversionary tactics" in a bid to deflect attention of the international community from its "brutalities" against Kashmiris. 
He added Pakistan would confront India diplomatically but "our armed forces are also fully prepared to defend the country". 
Defence Minister Khawaja Muhammad Asif reiterated that Pakistan does not want escalation of tension but it is "ready to meet any eventuality". 
He said Pakistan would respond "befittingly" to any firing by India across the Line of Control (LoC). 
The Defence Minister said India is displaying "irresponsible attitude" and trying to play to the gallery in a bid to "hoodwink" its public opinion. 
He said India cannot suppress legitimate aspirations of Kashmiri people. 
Minister for Commerce Khurram Dastgir said India is creating artificial tension in its attempt to divert attention of the world from its atrocities against Kashmiris. 
Minister for Kashmir Affairs Chaudhry Barjees Tahir said the world pledged right to self-determination through UN resolutions decades back and now the fifth generation of Kashmiris is protesting for this right. He said Indian policy of suppression of legitimate struggle of Kashmiris would neither benefit India nor the region. 
The Cabinet meeting came amid reports that Pakistan's UN Ambassador Maleeha Lodhi is meeting the world body's chief Ban Ki-moon to inform him about the "continued provocations" by India along the LoC.
The Pakistani establishment and media yesterday were swift in denying the surgical strikes carried out by Indian Army. They claimed that New Delhi was exaggerating the incident of cross-border firing as a surgical strike to divert attention from Kashmir crisis. 
Country's Inter-Services Public Relations (ISPR), however, tweeted that two Pakistani soldiers were killed in cross-border firing by Indian forces. The Pakistani PM immediately after this called a Cabinet meet and also the joint session of Parliament on October 5 to review the situation.