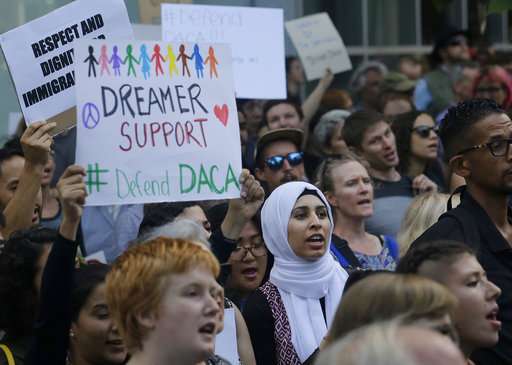 President Donald Trump on Tuesday began dismantling Barack Obama's program protecting hundreds of thousands of young immigrants who were brought into the country illegally as children, declaring he loves the "dreamers" who could face deportation but insisting it's up to Congress, not him, to address their plight.
Trump didn't specify what he wanted done, essentially sending a six-month time bomb to his fellow Republicans in Congress who have no consensus on how to defuse it.
On Twitter Tuesday night, he wrote: "Congress now has 6 months to legalize DACA (something the Obama Administration was unable to do). If they can't, I will revisit this issue!"
The president tried to have it both ways with his compromise plan: fulfilling his campaign promise to eliminate the Deferred Action for Childhood Arrivals program, or DACA, while at the same time showing compassion for those who would lose deportation protection and the ability to work legally in the U.S. New applications will be rejected and the program will be formally rescinded, but the administration will continue to renew existing two-year work permits for the next six months, giving Congress time to act.
"I have a love for these people and hopefully now Congress will be able to help them and do it properly," Trump told reporters.
Yet at the same time, the White House distributed talking points to members of Congress that included a dark warning: "The Department of Homeland Security urges DACA recipients to use the time remaining on their work authorizations to prepare for and arrange their departure from the United States."
Although Trump's announcement had been anticipated in recent days, it still left young people covered by the DACA program reeling.
DACA repeal 'cruel', 'wrong': Obama
Former US president Barack Obama decried his successor's decision to end an amnesty for 800,000 people brought to America illegally as children, describing it as "wrong," "self-defeating" and "cruel."
In a rare re-entry onto the political stage, Obama used a Facebook post to slam Trump's decision and call on Congress to step in.
"To target these young people is wrong -- because they have done nothing wrong," he wrote.
"It is self-defeating -- because they want to start new businesses, staff our labs, serve in our military, and otherwise contribute to the country we love. And it is cruel."
"What if our kid's science teacher, or our friendly neighbor turns out to be a Dreamer? Where are we supposed to send her? To a country she doesn't know or remember, with a language she may not even speak?"
Obama, who is currently finishing his memoirs, had vowed before leaving office that he would speak up if Trump moved to unravel the amnesty introduced in 2012 -- during the ex-president's first term.
Trump has argued that the policy was legally flawed, and that he must put native-born Americans first.
Obama rubbished that suggestion.
"Let's be clear: the action taken today isn't required legally. It's a political decision, and a moral question."
"Whatever concerns or complaints Americans may have about immigration in general, we shouldn't threaten the future of this group of young people who are here through no fault of their own, who pose no threat, who are not taking away anything from the rest of us."
"It's up to Members of Congress to protect these young people and our future."
DACA repeal triggers protests
Trump administration's decision to scrap an Obama-era amnesty programme is likely to impact 800,000 undocumented workers including more than 7,000 Indian-Americans.  The amnesty programme granted work permits to immigrants who arrived in the country illegally as children.
 "I am here today to announce that the programme known as DACA (Deferred Action for Children Arrival) that was effectuated under the Obama Administration is being rescinded," US Attorney General Jeff Sessions said. 
"The Department of Justice has advised the President and the Department of Homeland Security that DHS should begin an orderly, lawful wind down, including the cancellation of the memo that authorised this programme," Sessions told reporters.
The news that the government is phasing out the Deferred Action for Childhood Arrivals program, known as DACA , was met with shock, anger and a sense of betrayal by its beneficiaries, often called "Dreamers."
Demonstrations broke out in New York City, where police handcuffed and removed over a dozen immigration activists who briefly blocked Trump Tower, and in other cities, including Salt Lake City, Denver, Los Angeles and Portland, Oregon. Students walked out of class in protest in several cities, including Phoenix and Albuquerque.
Attorney General Jeff Sessions said DACA, started by President Barack Obama in 2012, was an unconstitutional exercise of executive power. The Trump administration and other DACA opponents argue that it is up to Congress to decide how to deal with such immigrants.
Attorneys general for several states threatened to sue to protect the DACA beneficiaries. "We stand ready to take all appropriate legal action to protect Oregon's Dreamers," Oregon Attorney General Ellen Rosenblum tweeted.
Utah Attorney General Sean Reyes, a Republican and an early Trump supporter, said the president has every right to end DACA. But he added that it would be unconscionable to deport those who benefited from the program.