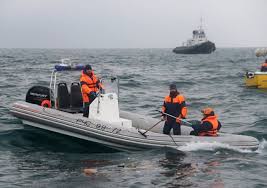 The Russian defense ministry has stated that it had found the Black Box of Flight Tu-154, the Russian Military Aircraft that reportedly crashed shortly after takeoff from the Southern Russian City of Sochi.

 

All 92 people on board the ill-fated flight are believed to have died when the plane crash landed on Sunday.

 

Among the passengers of the flight were members of Russia's world famous military choir who were on their way for a special new year's performance in the Russian Air Force base in Syria.

 

Source stated that one of the flight recorders was discovered this morning and state media showcased clips of rescue workers hauling the recorder into inflatable boats after which it was flown directly to Moscow. No information about the state of the box has been issued.

 

In a massive rescue operation, over 3,000 people, 45 ships and a 192 divers took part in efferts to locate the wreckage and recover the bodies of those on board.

 

The cause of the plane crash still remains a mystery with no concrete report at this time, but experts after examining the pattern in which the wreckage was scattered are hinting towards an onboard explosion as the cause that brought down Tu-154.

 

In addition to this and the fact that the crew had not reported any technical failures hints that the plane may have been the victim of a terrorist attack.

 

Russian officials have since downplayed the possibility of a terror attack being the cause of the crash.