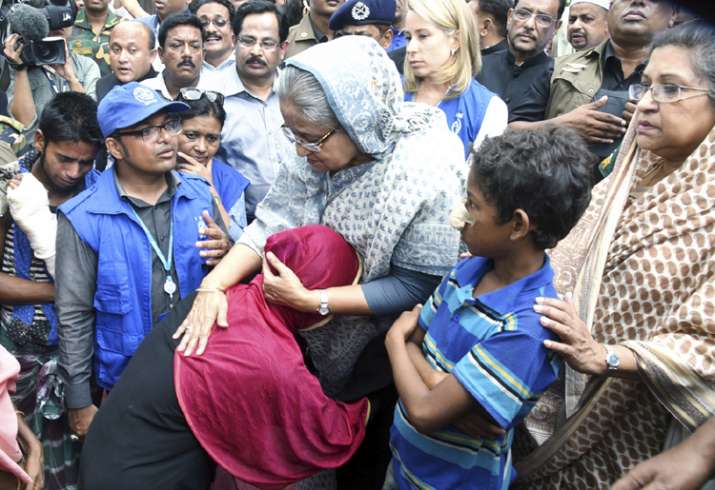 Bangladesh Prime Minister Sheikh Hasina today accused Myanmar of committing "atrocities" on Rohingya Muslims and asked the Buddhist-majority country to stop the violence against innocent people that had led to an exodus of over 3 lakh refugees to her country.
She also asked Myanmar to "take steps" to take back its nationals who have fled to Bangladesh following the violence and suggested it to set up safe zones to enable their return. "We want peace and a friendly relation with neighbouring countries...(but) we cannot allow and accept any kind of unjust and our protest will continue to this end," Hasina said after visiting a Rohingya refugee camp near the border town of Ukhiya in Cox's Bazar district.
She said Myanmar will have to take back all Rohingya refugees who entered Bangladesh. "Myanmar has created the problem and they will have to solve it," Hasina said. She assured the refugees that Bangladesh would continue to provide humanitarian assistance to them. "As long as they don't return to their country we will remain beside them," she said.
"Bangladesh is a country of 16 crore people and we have ensured their basic needs, we also have capability to provide all kinds of help including food and healthcare services to the Myanmar refugees," she said. "We will not tolerate injustice," she said, referring to the ethnic violence in the neighbouring country that has forced at least 313,000 people to take shelter in Bangladesh.
According to UN estimates, over 1,000 people may have been killed in the crackdown launched by the Myanmar Army in the Rakhine state since August 25 when a fresh wave of violence erupted there.
Rohingyas have faced decades of discrimination and persecution in Myanmar and are denied citizenship despite centuries-olds roots in the Rakhine region. Bangladesh had earlier said the new influx of Rohingya refugees is an unbearable additional burden on the country which has been hosting around 400,000 Myanmar nationals who had to leave their country in the past due to communal violence and repeated military operations.
Hasina's comments came after the parliament last night passed a resolution denouncing Myanmar for the atrocities and called upon the international community to mount intensified pressure on Naypyidaw to stop the atrocities and take back the refugees.
"A handful of people of a shadow group had staged the attack which we (Bangladesh) also condemned, but should the entire community of one million populations be punished for that," the resolution read.
Hasina today said that being the neighbour Bangladesh would extend cooperation whatever Naypyidaw needed "but they will have to first stop inhuman attitude towards these people in Rakhaine state and provide them security."