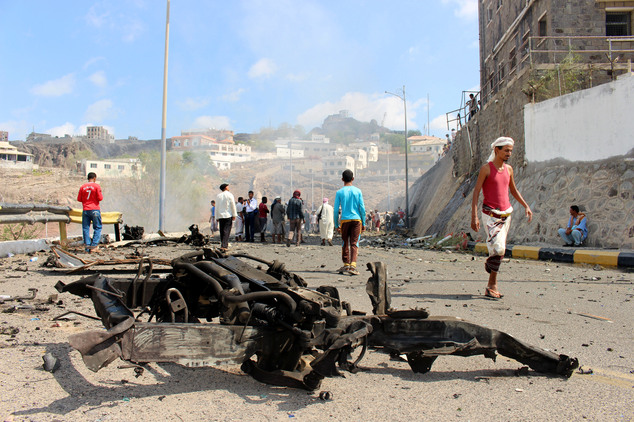 At least 60 people were killed in a suicide car bomb attack on an army training camp in Yemen's second city of Aden on Monday, security officials said in a new toll.
One official told AFP news agency the attacker drove his vehicle into a gathering of new recruits at the camp in southern city of Aden on Monday.
"Security services are still evacuating the dead and wounded" from the site, the official said.
Medics from Al-Wali hospital in Aden told the news agency that dozens of those wounded in the morning attack who were hospitalised had succumbed to their wounds.
No one claimed responsibility for the attack, but it resembled previous suicide bombings which Islamic State said it carried out in the city.
The blast rocked the area and sent debris flying, sending residents fleeing, one witness said.
The port city, the temporary base of Yemen's Saudi-backed government, has seen a wave of bombings and shootings targeting officials and security forces.
More than 6,600 people, mostly civilians, have been killed in Yemen since March 2015 and over 80 percent of its population has been left in need of humanitarian aid, according to the UN.