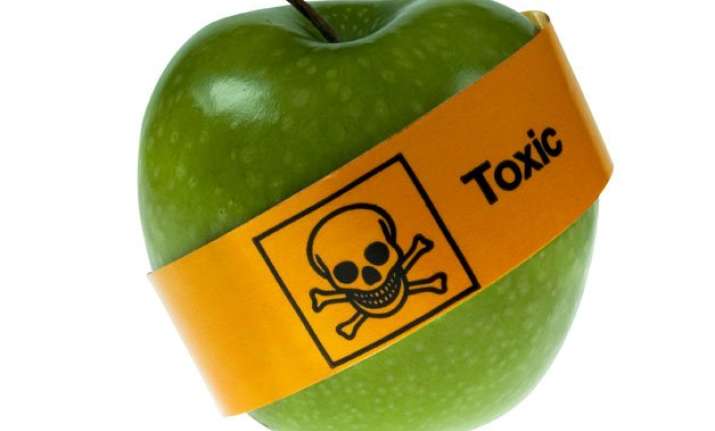 New Delhi: Vegetables, fruits and even organic food available at your nearest retail outlets may contain residues of banned pesticides in them.
A recent report released by the Ministry of Agriculture has found traces of banned pesticides in samples collected from various outlets across India.
The study was carried out by ministry to check residues in samples of vegetables, fruits, spices, red chilli powder, curry leaves, rice, wheat, pulses, tea and milk.
Officials collected samples from various retail outlets, farms and organic outlets located in different parts of the country, and tested them in 25 participating laboratories for groups of pesticide residues such as organo-chlorine, organo-phosphorous, synthetic pyrethroids, carbamates and herbicides.
A total of 20,618 samples were tested and pesticide residues detected in 18.7 per cent of them.
Chemical contamination above the Maximum Residue Limits (MRL) was detected in 2.6 per cent samples as prescribed by the Food Safety and Standards Authority of India (FSSAI).
The lab results found that 12.5 per cent of samples also had residue of non-approved pesticides.
Over 8000 samples of vegetables including brinjal, okra, tomato, cabbage, cauliflower, green chilli, capsicum were subjected to tests and in 2.7 per cent samples pesticide residues were found exceeding the MRL.
While 18.8 per cent of fruit samples (2239) analysed contained measurable residues from which 1.8 per cent of samples contained residues above MRL. Out of 805 wheat samples, 17 were found to be carrying residues of deltamethrin pesticides above MRL
After the report has found concerning levels of pesticide residues, the ministry has started awareness programmes for farmers.
Tea Board of India has taken several steps to ensure that there is no health hazard as far as consumption of Indian tea is concerned. The board is committed to ensure that no undesirable pesticides contaminate the teas produced in India. To achieve this integrated pest management practices have adopted for quite some time.
"The Board has enforced the Plant Production Code with effect from 1st January 2015 and all the stake holders have adopted that. The code mandates the tea growers as well as manufacturers to critically review and monitor the use of chemical formulation, reduce their use and apply the approved chemical formulations in the safest way possible. The objective of this code is to achieve sustainability through Good Agricultural Practices, Integrated Pest Management, and promotion of alternative control strategies viz. Biological control to gradually reduce the dependence on chemicals minimizing the possible negative impact of pesticides on humans, wildlife and the environment," the board said in a statement.