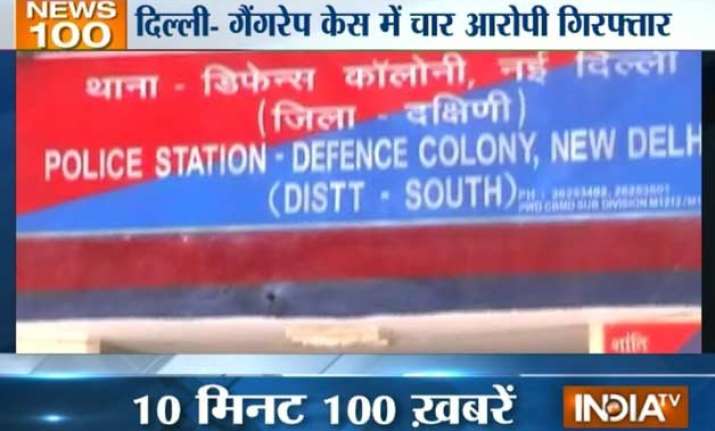 New Delhi: A 25-year-old woman was gang-raped by six men in Defence Colony area here on Saturday night, police said on Sunday.
Police have arrested four of the six accused from Dakshinpuri in south Delhi, while two are absconding.
The arrested accused have been identified as Akash (23), Deepak (20) and Aman (26). They have been booked for the offences of gang-rape, kidnapping and under other relevant sections of the IPC.
The fourth accused identified as Rohit, who was also in the group when the woman was kidnapped from Defence Colony area, was arrested but was not booked for offence of rape.  
According to police, the woman, a resident of Uttam Nagar, worked with an event management firm on contract basis. 
Police said that an auto-rickshaw driver, who had dropped the woman near Moolchand, saw that she was dragged inside a Santro car by five men, following which he made a PCR call.
In a statement to the police, the victim alleged that she was abducted from Moolchand flyover around 2.45am by five men in a white Hyundai Santro car and taken to Khanpur.
The woman said the men took her to a house in Dakshinpuri where they took turns to rape her and then dumped her.
"They pulled the woman inside the vehicle and sped away. The auto driver noted down the car's registration number and made a call to the police control room," a police officer said.
PCR van officials reached Moolchand flyover and took the driver with them and started hunting the car.  
Police said after a few hours the woman was found lying on the roadside in Dakshinpuri area near Pushpa Bhawan.  
She narrated the incident to the police and said she could locate the house where she was gang-raped.  
The woman along with a police team went to the house and found the same Santro car parked outside the building. Out of the six men, four were arrested from the house while a hunt is on for the remaining two.
Police said the woman's medical examination has confirmed that she was raped and further investigation is going on.
The incident has once again put the spotlight on women's safety in the national capital that has seen fierce protests over the December 16 gangrape, the Uber cab incident.