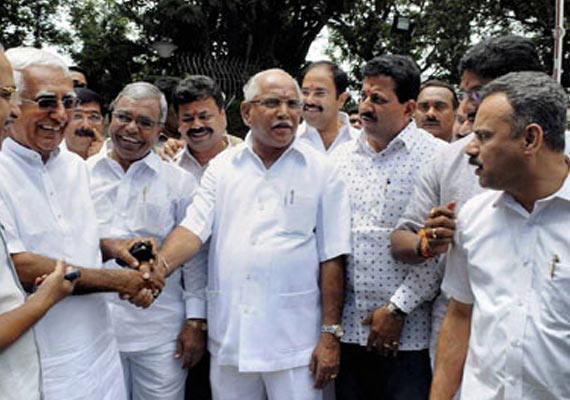 Bangalore, Mar 20: In a respite for BJP facing a crisis over the leadership issue in Karnataka, state party strongman B S Yeddyurappa today agreed to end the boycott of assembly by his loyalist MLAs heeding to the advice of the party's central top brass.
"We have decided to attend the budget session tomorrow when Chief Minister D V
Sadananda Gowda
presents the budget. We will also participate in the House proceedings", Minister for Water Resources Basavaraj Bommai announced after a meeting of Yeddyurappa loyalists at a private resort here where they are huddled since the latest crisis over the leadership issue broke out last week end.
Bommai said BJP President
Nitin Gadkari
and senior leader
Arun Jaitley
spoke to Yeddyurappa and assured him a decision will be taken to resolve the Karnataka crisis as soon as possible, which prompted them to end the boycott.
Making maters worse for the D V Sadananda Gowda government, Yeddyurappa's loyalists, who are demanding his resinstatement as chief minister, earlier in the day boycotted the opening day of the budget session.
Bommai said the BJP Core Committee was likely to meet in Delhi tomorrow to discuss the Karnataka issue and arrive at a "convincing decision".
"In the light of this positive assurance, we have decided to attend the budget session. We realise the importance of the budget to us and also to the people of the state", he said.
Bommai stoutly defended the earlier decision to boycott saying "it is not to disrespect the budget. But to clear certain misinformation that was spread about the numerical strength of Yeddyurappa. We know the value of the budget".
He said Gadkari, during his telephonic conversation with Yeddyurappa, told him that the party was aware of the situation, support enjoyed by him and also his political strength.
The BJP central leadershp has been in constant touch with Yeddyurappa and discussed various facets of the crisis, Bommai said.
Maintaining that the meeting at a resort was not to bring disrepute to the government, he said it was only to prove the strength of Yeddyurappa and also highlight the high court verdict clearing him of the corruption charges made against him in Lokayukta report on illegal mining.
Bommai said the supporters of Yeddyurappa were now convinced that the party high command has "correct information" on the situation. It will be a win-win situation for everybody".
As signals from his party high command emnated over easing the situation, Sadananda Gowda said he would present his maiden budget tomorrow.
Targeting Sadananda Gowda, the Yeddyurappa camp had aimed at scuttling presentation of budget by him and roped in about 65 MLAs shepperding them into the private resort since March 18.
Yeddyurappa, besides deputing a 12-member MPs team to hold parleys with BJP central leadership, also sent the list of the 65 MLAs to the party with a hope to get a decision in his favour.